The Huntington Beach Longboard Crew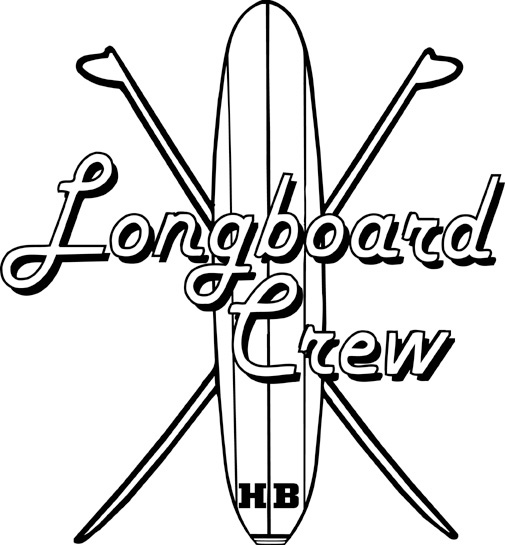 Before this club formed there are unofficial accounts of the history of surf clubs. Here is ours. Use the password seahag to read this one by the snake of HB. The Huntington Beach Long Board Crew was formed October 17, 1985. Charter members of the HBLC included Mike Minchinton, Wally Walczyk, Gary Sahagen, Jacob Sahagen, Joe Yeno, Nick Lopez, Dan Casey, Frank Cochran, John English, Lee Nesmith, Chris Campin and Bob Asperen. The club grew to 53 members a year later. The list of names included Ace Aseltine, JC Aseltine, Chuck Annen, Geoff Atkinson, Benny Westbrook, Burt Benz, Bill Burhans, Mike Casey, Dave Carlos, Gayline Clifford, Mark Cobb, Chuck Condi, Ed Enriquez, Robert Fanti, Norm Finn Pat Fourmont, Rob Fraser, Stu Guinn, Keanu Haili, Mike Haley, John Hess, Doug Huff, Rick Jones, Kenny Justice, Daryl Kimberly, Lisa Konrad, Scott Lyon, Tony Mahfet, Eric McCarthy, Dan Meier, Stacy Peterson, Carly Roberts, Pamela Roberts, Ruban, Kemo Sanchez, Bret Zschomler, Gary Zschomler, Lew Storum, Rick Valdez, Josh Wilber, John W. and Ralph Yeramian. A calendar of scheduled events for the second year had meetings alternating between Bob Asperen's deck and Scotty Lyon's house. The first anniversary meeting and board burn was held at the HB state park. The pier paddle was November 15, 1986. On December 19, 1986 there was a club contest at the HB pier. The January 24 and 25 outing in 1987 was to Quatro Casas in Mexico. A points system and the perpetual trophy was established. Mike Minchinton was the first year's point leader which earned him the coveted first name on the Longboard Crew Perpetual Trophy. Other perpetual award names include Tony Mahfet, Bruce Walczyk, Frank Cochran, Lee Nesmith, Kristy Enriquez, Ralph Yeramian, Gary Sahagen, Ed Enriquez, Bill Brewer, Myra Brewer, Bob Bright, Carlos Reyes, Bret Zschomler, Tom Knight, Tim McCollum, Rick Ischinger and Bill Hopkins. The Longboard Crew Perpetual Trophy is pictured below: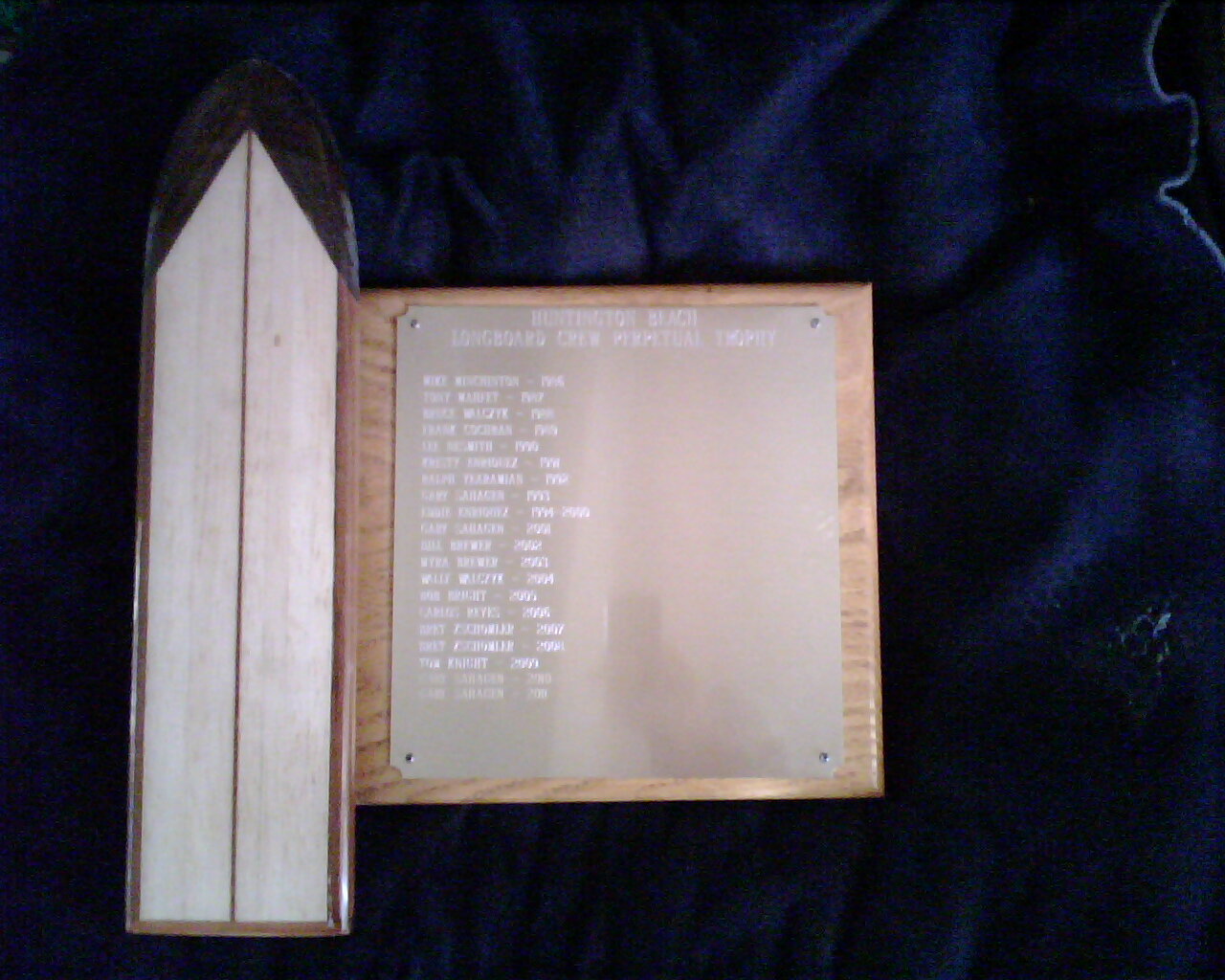 1987 San-O-Smash
The HBLC runs contests and fund raisers to raise money for other charitable organizations. In 2000, the club incorporated as a non-profit organization. We hold monthly meetings and attend team competitions as a charter member of the Coalition of Surf Clubs (CSC). Our charitable work include Project Self Sufficiency, Save Our Selves, Adopt-A-Family and other causes that have come up through the years. We collaborate with other groups. Our pier paddle, our Valentine Day Surf n Dance, our Robin Hauser Surf N' Bowl, our San-O-Smash, our Northside Pro-Am Classic, our GT Noseriding and Tandem Pro-Am and many other events and activities have made the Huntington Beach Longboard Crew world famous.
The Huntington Beach Longboard Crew belong to the Coalition of Surf Clubs, an organization that represents the interests of surfing clubs throughout California and the world. In addition to offering a competitive venue for club surfing, this organization acts as a united voice to address issues related to coastal water quality, beach access, development, and legislative policy. The Coalition currently represents over 20,000 surfers of all ages worldwide. The Longboard Crew is a founding member of this coalition and sends a surf team from Huntington Beach to compete against other teams in periodic tournaments for bragging rights. These tournaments are family oriented and raise money for charitable and environmental causes.
List of names from the Longboard Crew membership roster back a few years. Some memberships may have become dormant, some may they rest in peace.
| | |
| --- | --- |
| Anderson | Brian "Loafer" |
| Angeley | Jim |
| Apadaca | Edgar |
| Arnold | Andy |
| Aseltine | Ace |
| Aseltine | Acey |
| Aseltine | JC |
| Attardo | Alan |
| Asperen | Bob |
| Avemaria | Hans |
| Bailey | Doug |
| Bailey | Lisa |
| Baptiste | William |
| Babiracki-Kirby | Carole |
| Barnick | Ben |
| Bascope | Felipe |
| Bastien | Matt |
| Bastien | Mike |
| Baxter | James |
| Beebe | Lisa |
| Bellows | Rachel |
| Bewsee | Robin |
| Bigelow | Don |
| Bigelow | Conrad "CJ" |
| Bigler | Mary |
| Bigler | Lily |
| Birch | Caryn |
| Boldt | Jay |
| Bolen | Bob "The Greek" |
| Boozer | John |
| Boozer | Morghan |
| Braudo | Stephen |
| Brewar | Ronald |
| Brewer | Bill "Checkers" |
| Brewer | Myra |
| Bright | Bob |
| Briney | Frank |
| Brock | Jacquelyn |
| Brown | Rob "RB" |
| Browning | Mark |
| Bruning | Paul |
| Bugarini | Oscar |
| Burgess | Ray |
| Bushman | Adam |
| Camargo | Maddie |
| Carlos | Dave |
| Carlos | Leslie "Big Red" |
| Carlson | James |
| Carlson | Lily |
| Carlson | Sarah |
| Carmadella | Terry |
| Carr | Matt |
| Carter | George |
| Casas | Larry |
| Casas | Shelley |
| Casey | Mike |
| Casey | Daniel Patrick |
| Castro | Artie |
| Cepeda | Alex |
| Cepeda-Russell | Patricia |
| Chrysler | Christina J |
| Church | Barry |
| Church | Shanna |
| Clack | Bennett |
| Clack | Eric |
| Clack | Sharon |
| Clifford | Jeff |
| Clowe | Miff |
| Cobb | Mark |
| Cochran | Frank |
| Cochran | Penny |
| Colby | Barry |
| Coons | Jim |
| Cowan | Bruce |
| Crumley | Eric |
| Crump | Roy |
| Dale | Dick |
| D'Angelo | John |
| DaSilva | Thomas |
| Delmer | Bob |
| DelMonaco | Patty |
| DeLoach | Jeff |
| Dillard | Joey |
| Dominguez | Al |
| Dooley | Dennis |
| Duane | Gordon "Gordie" |
| Duarte | Anthony |
| Dufour | Asa |
| Dufour | Stephanie |
| Dufour | Zoe |
| Eckberg | Eric |
| Edinger | Mark |
| Edwards | Suzie |
| Elmes | Robert |
| Engle | Cathy |
| English | Andrew |
| English | Cody |
| English | Scott |
| Enriquez | Eddie |
| Enriquez | Kristy |
| Erspamer | Mike |
| Ester | Mike |
| Faircloth | Marc |
| Flynn | Jim |
| Flynn | Jack |
| Flynn | Scott |
| Flynn | Chris |
| Flynn | Rick |
| Focht | Tres |
| Frank | Mike |
| Frank | Trent |
| Frederickson | Bob |
| Freidman | Bobby |
| French | Steven |
| Fruitwala | Sarah "Fae" |
| Fury | William Edward "Bill" |
| Gabrielson | Bruce |
| Gacad | Danny |
| Gaeta | Joe |
| Garcia-Rojas | Sammy |
| Garrison | Josh |
| Gibson | Shannon |
| Gladman | Mike |
| Godfrey | Raymond |
| Gomez | Michael |
| Gonzales | Fred |
| Gonzales | Tina |
| Gonzales | Shaun |
| Greely-Gonzales | Kayla |
| Grosse | Larry |
| Gruner | Paula |
| Guilmette | Irena |
| Guilmette | Jeremy |
| Guilmette | John |
| Hafke | Steve |
| Halada | Leslie |
| Haley | Mike |
| Hall | John |
| Hall | Mason |
| Hall | Victoria |
| Hall | Zachary |
| Hamrock | Kim |
| Hamrock | Margeaux |
| Hamrock | Marty |
| Hansen | Curt |
| Hansen | Karen |
| Hanson | Jeff |
| Harris | David |
| Harvel | Kyle |
| Harvel | Wally |
| Hastings | Jim |
| Hauser | Robin |
| Hawkins | Joey |
| Hawkins | Ronald |
| Hawkins | Wendy |
| Hayes | Bob |
| Heady | Dave |
| Heckman | Paul |
| Hegberg | Thorsten |
| Hegberg | Quinten |
| Hensley | James |
| Heraver | Jamie |
| Hilts | Dave |
| Hitchens | Kevin |
| Holreck | Vernon |
| Honrath | Tom |
| Hopkins | Ashley aka Deborah Olson |
| Hopkins | Bill |
| Hopkins | Billy |
| Hopkins | Rylee |
| Housel | Patrick |
| Hugron | Justin |
| Huseman | Mike |
| Huseman | Yvette |
| Ischinger | Judy |
| Ischinger | Rick "Ischy" |
| Jacques | James |
| Jacques | Jessica |
| Janosz | Mike |
| Janosz | Steve |
| Jeffs | Deborah |
| Jenks | Howard Albert |
| Jimenez | Dylan |
| Jimenez | Raoul |
| Johnson | Robert |
| Jones | Bruce |
| Jones | Paul |
| Jones | Shane |
| Jones | Tony |
| Juhasz | Michelle |
| Karian | Travis |
| Kehoe | Kirra |
| Kehoe | Monique |
| Kehoe | Sean |
| Keiser | Kotch |
| Kirby | Kevin |
| Knight | Tom |
| Koller | Gary |
| Koller | Kelly |
| Kraushaar | Karl |
| Kraushaar | Kelly |
| Kremel | Dodger |
| Kroo | Kris |
| Lambert | Allen |
| Lambert | George |
| Lancaster | Ted |
| Land | Robert |
| Landgren | Allan |
| Lewington | Eva |
| Lewis | Danny |
| Lewis | Mike |
| Lewis | Randy |
| Lie | Lance |
| Linnen | Chuck "Raoul" |
| Livingston | Kim |
| Lopez | Nick |
| Lovrine | Dwain |
| Lundquist | Aaron |
| Lundquist | Leslie Harding |
| Lyford | Randy |
| Lyle | Paula |
| Lyman | John |
| Lynn | Wendy |
| Lyon | Scotty |
| Madsen | Angela |
| Mahfet | Tony |
| Marks | Alex |
| Maron | Dennis |
| May | Thomas |
| McCart | Marilyn |
| McClane | Duncan |
| McCollum | Kathleen |
| McCollum | Tim |
| McConnell | Mark |
| McCutcheon | Clay |
| McDevitt | Joshua |
| McDevitt | Nikki |
| McDevitt | Ron |
| McDevitt | Sydney |
| McIntosh | Heather |
| McKinnon | Rocky |
| McTernan | Julia |
| Messick | Todd |
| Miller | Al |
| Minchinton | Mike |
| Mondor | Christian |
| Monson | Donald |
| Miskin | Danny |
| Morefield | Steve |
| Morefield | Shelly |
| Neishi | Bobby |
| Nesmith | Lee |
| Newman | John |
| Nigro | Vince |
| Nunes | James |
| Nuuhiwa | David |
| Nuuhiwa Senior | Uncle David |
| Nuuhiwa | Jan |
| Olivas | Chris |
| Olson (Ontkean) | Jack |
| Ontkean | Paula |
| O'Shea | Dan |
| Overton | Randy |
| Patri | Steven |
| Pauli | Teresa |
| Pendleton | Ron |
| Perry | Cindy |
| Perry | Jennifer |
| Pollock | Jim |
| Poppler-Bartlow | Jericho |
| Bartlow | Raquel |
| Bartlow | Sophia |
| Potts | Les |
| Quinn | Don |
| Quinonez | Diego |
| Quinonez | Hans |
| Quinonez | Rena |
| Quintanar | Yolanda |
| Raab | Chris |
| Rathan | Sean |
| Reno | Corwin |
| Reyes | Carlos |
| Reyes | Michelle |
| Reynolds | Dave |
| Reynolds | Rob |
| Richards | Michelle |
| Rivera | Alex |
| Rivera | Angie |
| Rogers | Annette |
| Rogers | Tiffany |
| Romero | Claudia |
| Royal | Rob |
| Roybal | Gilbert |
| Ruiz | Chuck |
| Russell | Andy |
| Rustan | Johneen |
| Rustan | Robin "Rusty" |
| Rustan | Ryan |
| Sahagen | Gary "Seahag" |
| Sahagen | Wendy |
| Salgado | John Paul |
| Sato | Dennis |
| Schaefer | Matt |
| Schrage | Andrew |
| Schroeder | Breanna |
| Schuyler | Al |
| Scott | Doug E |
| Seager | Nora |
| Shelton | Jonathon |
| Sherman | Stuart |
| Shlaudeman | Bob |
| Shlaudeman | Kimberly |
| Shlaudeman | Mary Lou |
| Sierra | Joe |
| Smith | Derek |
| Silver | Jeff |
| Smith | Eldon |
| Smith | Joe |
| Smith | Judy |
| Smith | Shane |
| Smith | Steve |
| Spindleman | Debi |
| Springer | Katelyn |
| Stewart | Lee |
| Stewart | Mark "Stewie" |
| Stone | Ash |
| Stone | Mike |
| Stone | Scott |
| Sullivan | Diana |
| Sutherland | Adam |
| Sutton | Cyrus |
| Syverson | Scott |
| Tanaka | Shige |
| Taylor | John |
| Taylor | Matthew |
| Terrado | Noel |
| Thomas | Sean |
| Thomas | Sherilyn Dee |
| Thomas | Gretchen |
| Thomas | Shirley |
| Thomas | Steve |
| Tillmans | Michael |
| Toms | Frank |
| Toms | Sole |
| Trepas | Stan "Wooden Indian" |
| Troadec | Bruno |
| Umbarger | Angela |
| Umbarger | Richard |
| Valado | Erik |
| Walczyk | Sheena |
| Walczyk | Bruce "Wally" |
| Waring | Grace |
| Waring | Mark |
| Waring | Trevor |
| Wasserman | Kevin "Noodle" |
| Watson | Bill |
| Weiler | Don |
| Weiler | Greg "Fuzzy" |
| Weiss | Mark |
| Westbrook | Benny "The Blaster" |
| Whalen | Tim |
| Whitener | Dan |
| Wilborn | Caleb |
| Willson | John |
| Wright | Deann |
| Wright | Gene |
| Yeno | Joe |
| Yeramian | Ralph "R Snake" |
| Young | Glenn |
| Zee | Bobby |
| Zschomler | Bret "BZ" |
| Zschomler | Gary |
| Zschomler | Joanne |
| Zschomler | Mary |
| | |
©1985-2019 Huntington Beach Longboard Crew• All Rights Reserved