The team got a last minute invite to the Malibu Classic held September 8-9, 2007. Bill Brewer KILLED it taking out Kenji Webb and a host of other hot surfers to finish 3rd overall. Our Young Lioness for 2007 won the menehunes girl division, Kirra Kehoe!!! Kirra just had to school all the up and comers on classic malibu style! Way to show them style, Kirra.
The Crew's surf team disbanded for the coalition events of 2008 when team captain, Seahag went on the disabled list with his back problems. However, the membership is still strong and we are rebuilding the team for 2009.
There was a fun time had at the Crew's Northside Classic in November of 2008 with First Place going to Bill Brewer. Tom Knight and Bret Zschomler rounded out the top three. We also had a good showing at the Summer Surf Contest that the city of HB puts on. The Bikes for Baja was postponed this year due to all the problems in Mexico. Our annual Christmas party went off and we adopted two families this year for Christmas.
2009 started off with a decent showing at DLSA's Gathering of the Tribes. We finished 13th out of 18 teams from all over California. We surfed against many of our old teammates who now are surfing for Malibu, Oceanside and Long Beach. Sean Kehoe made two finals, Billy Hopkins made the finals and Seahag won the president's division. Our youngest and newest member, Diego was in good form but was up against tough competition as he is nine surfing against 14 year olds.
Our 23rd annual Pier Paddle on February 1st, 2009 was won by Tom Knight. Second place went to Bill Brewer followed by Bret Zschomler, Bill Hopkins, Ryan Zschomler and Thomas Da Silva. Running the Surf City USA® Marathon's beer garden was a successful fundraiser for us.
The Valentine Day Party was a great success thanks to our hostess, Teresa Pauli. Bret won the trip to Mexico and his band entertained the crew with some hot licks.
Diego Quinonez represented the crew in the 2009 Big, Bad & Ugly at Morro Bay. Diego placed first in the grom division! Way to represent HB, Diego! Thanks to your dad, Hans!
The next event was the 10th Annual Robin Hauser Surf n Bowl held on April 25-26, 2009. Fountain Bowl hosted the bowling and the surf was good 2-4 footers on Easter Sunday at 6th Street in Huntington Beach. Gary, Bill, Dave and Bret placed in that order. Baby Steve won the junior and Kelly grabbed first in the women's division.
The Northside Classic event in November 2009 went off with good waves but a poor turnout. The finals had first place Gary Sahagen; second Place Thomas Da Silva; third place Alex Marks and fourth place Randy Lyford. .
The Longboard Crew had a few christmas parties and adopted a family for christmas.
The Bikes for Baja program has ended with our final bike distribution taking place in December 2009 thanks to Wally and Bret.
---
The Club had a great paddle race this year the week after Superbowl Sunday.
February 13th, 2010
23rd Annual Surf City USA® Pier Paddle
1st Bill Brewer
2nd Thorsten Hegberg
3rd Thomas Da Silva
4th Bret Zschomler
5th Bill Hopkins
6th Tim McCollum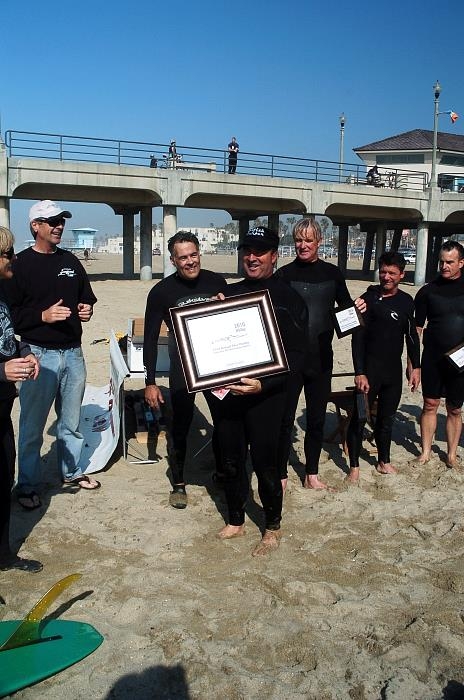 2010 paddle race winner - Bill Brewer
The 2010 Valentine Day dance was a great success at Don the Beachcomber.
10th Annual Robin Hauser Surf n Bowl April 17th, 2010
The event was held in good 2-4 foot surf at sixth street just north of the pier. The bowling took place at fountain bowl that afternoon. Two heats and two games. Here are the results.
Men Open
1st Place Bill Hopkins
2nd Place Bill Brewer
3rd Place Bret Zschomler
4th Place Noel Terrado

Younger Men Open
1st Bart Zschomler

Women Open
1st Place Wendy Sahagen
"I Suck at Bowling" Award: Gary Sahagen
Our competition team for the Longboard Crew is in need of new riders in all age categories. Longboard, shortboard, SUP, tandem, paddlers and cheerleaders are needed.
The team made an entry in the First coalition event last January 2010 at Church in Trestles. The Doheny Longboard Surfing Association hosted the event. The waves were great and the team had a decent showing for a small team. Diego Quinonez and Asa Aseltine were our groms. Thomas DaSilva, Gary Sahagen and Tim McCollum were our men entries and Jamie Weaver was our lone female entry. Jamie got third and Gary got a fourth in the president's and fifth in the Grand Masters which helped the team avoid last place. We tied with the Malibu Boardriders for 12th out of 14 clubs.
The Sanosmash was transformed to a July 17th "Newluwatu 2010" weinie roast at Huntington State Beach at Newland Street. The club had a great turn-out with the surf a contestable 1-3 foot. The shorebreak had some barrelling sections but the long rides from outside proved the winning formula. The results were:
1st Bret Zschomler
2nd Tom Knight
3rd Gary Sahagen
4th Gary Zschomler
August saw the competitors down in Oceanside for the 26th Annual Oceanside Longboard Event in conjunction with the Supergirl and Guy Takayama contests. Gary Sahagen made two finals receiving first place in the President's division and 5th place in the Grand Masters division.
September had the HB Summer Surf Contest. Many Longboard Crew members entered this city event. Gary Sahagen was the only club member to reach the finals and placed second in the Super Grand Masters.
The Dale Velzy Classic was also in September at Doheny. Several members attended as the day ended with a great luau. Gary Sahagen won first in his division as the only surfing entry from the Longboard Crew.
On October 30, 2010 the Senior Olympics had their fourth annual surfing competition. This was a joint effort between Huntington Beach Council on Aging and Anaheim cities. The event was fun and many Crew members were in attendance. The club members to get medals were Gary Sahagen who won the gold medal in division II and legacy member Mike Downey who won the gold in division I. Another legacy member, Kim Hamrock won the gold in the woman's division.
The Northside Classic went off on November 13, 2010 in great waves this year.
First - Gary Sahagen
Second - Bill Hopkins
Third - Tom Knight
Fourth - Bill Brewer
Fifth - Diego Quinonez
Sixth - Tim McCullom
Our annual Christmas Gathering was well attended. We adopted a family and sent a van load of canned foods to our charity. Great stories by Chuck, Bill, David, Greek and others! Thank you to all who contributed:
David N., Kai N., Bret Z., Rick I., Raule J., Hans A., Ralph W., Jim A., Bill F., Lisa B., Bill H., Kathy M., Tim M., Erik V., Alex M., Dan L., Corwin R., William B., Bob B., John T., Chuck L., Michael T.,Tony J., Al S., Cary W., Tom K., Greek, Bill B., Myra B., Hans Q., Diego Q., Thomas D., Randy L., Billy S., Wendy S. and Gary S.
The Gathering of the Tribes 2011 went off January 8-9, 2011. The waves were okay in the morning but great each afternoon as 300 competitors and 20 clubs camped out all weekend at Church Point, Trestles. The club finished 12th overall with the help of Chuck Linnen who finished 4th in the Extreme Legends, Kirra Kehoe who was 4th in the jr women shortboard and Gary Sahagen who was 4th in the Presidents division. We had over half our team advance from the first round including Bill Brewer, Bill Hopkins, Noel Terrada and Tim McCollum. Tim went on to the next round almost making the finals. Points were awarded to all who competed with Kirra, Sean Kehoe and Diego Quinonez contributing fine surfing skills for more team points before they got eliminated. Chuck Linnen (pictured below) took a double shin laceration on the rocks as he came in from the Extreme Legends Final Heat which was won by Mickey Munoz. Way to take "one for the gipper", Chuck!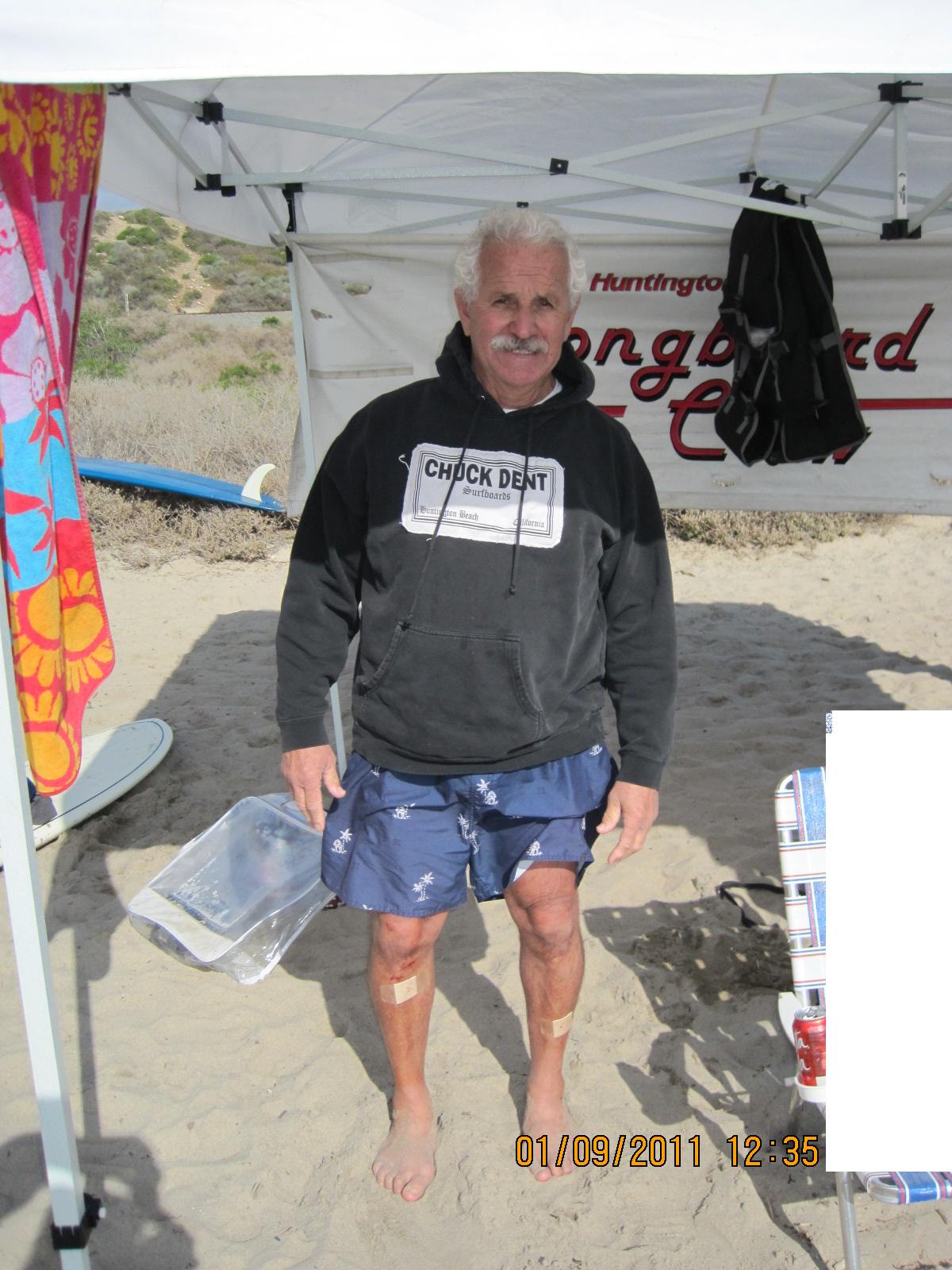 The Crew did the beer garden again on February 6, 2011 at the Surf City Marathon. Longboard Crew volunteers raised over $2000. Thank you to Kathleen and Tim McCollum, William Baptiste, Wendy and Gary Sahagen, Grace and Mark Waring, Alex Marks, Bill Brewer, Kitty Willis, Bob Delmer, Thomas DaSilva and Rauol Jimenez.
The day before the marathon we held the 26th Annual Pier Paddle Race. Attending were Chuck Linnen, Miff Clowe, Kathleen McCollum, Jim Angeley, Don Monson, Rick Ischinger on conch shell and Gary Sahagen as the race official timer and card hander outer.
1st Bill Brewer won with a time of 7 minutes 40 seconds
2nd Thorsten Hegberg
3rd Thomas DaSilva
4th Noel Terrado
5th Tim McCollum
6th Oscar B.
7th (Best Surfing) - Bill Hopkins
Best Effort - Randy Lyford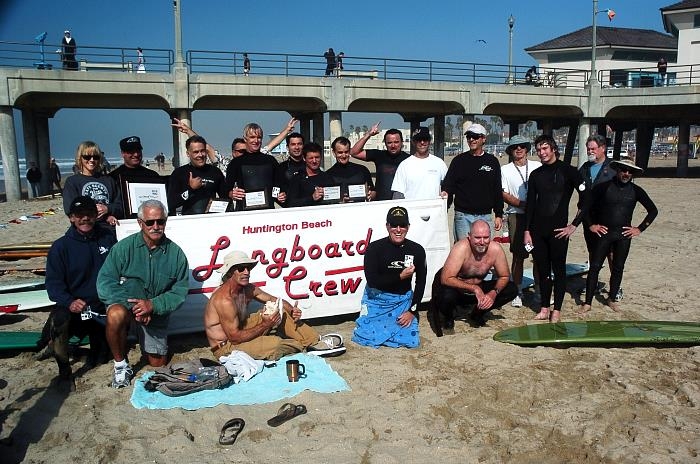 The Valentine Day Surf n' Dance was held on February 12, 2011 with a fine assortment of donuts, some coffee and good waves for the surfing portion we fondly refer to as the BD Classic. We finished up the surfing around noon and met up at Fred's as planned later that night. By 10pm we had had a couple of drinks and some food and we were ready to dance! Here are the Surfing winners: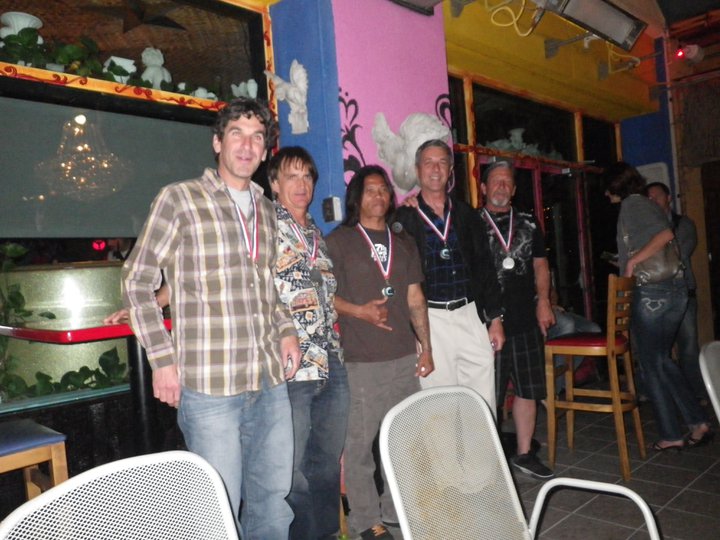 1st Noel Terrado
2nd Gary Sahagen
3rd Tim McCollum
4th Alex Marks
5th Michael Tillmans
6th Bob Bright
and the dancing winners: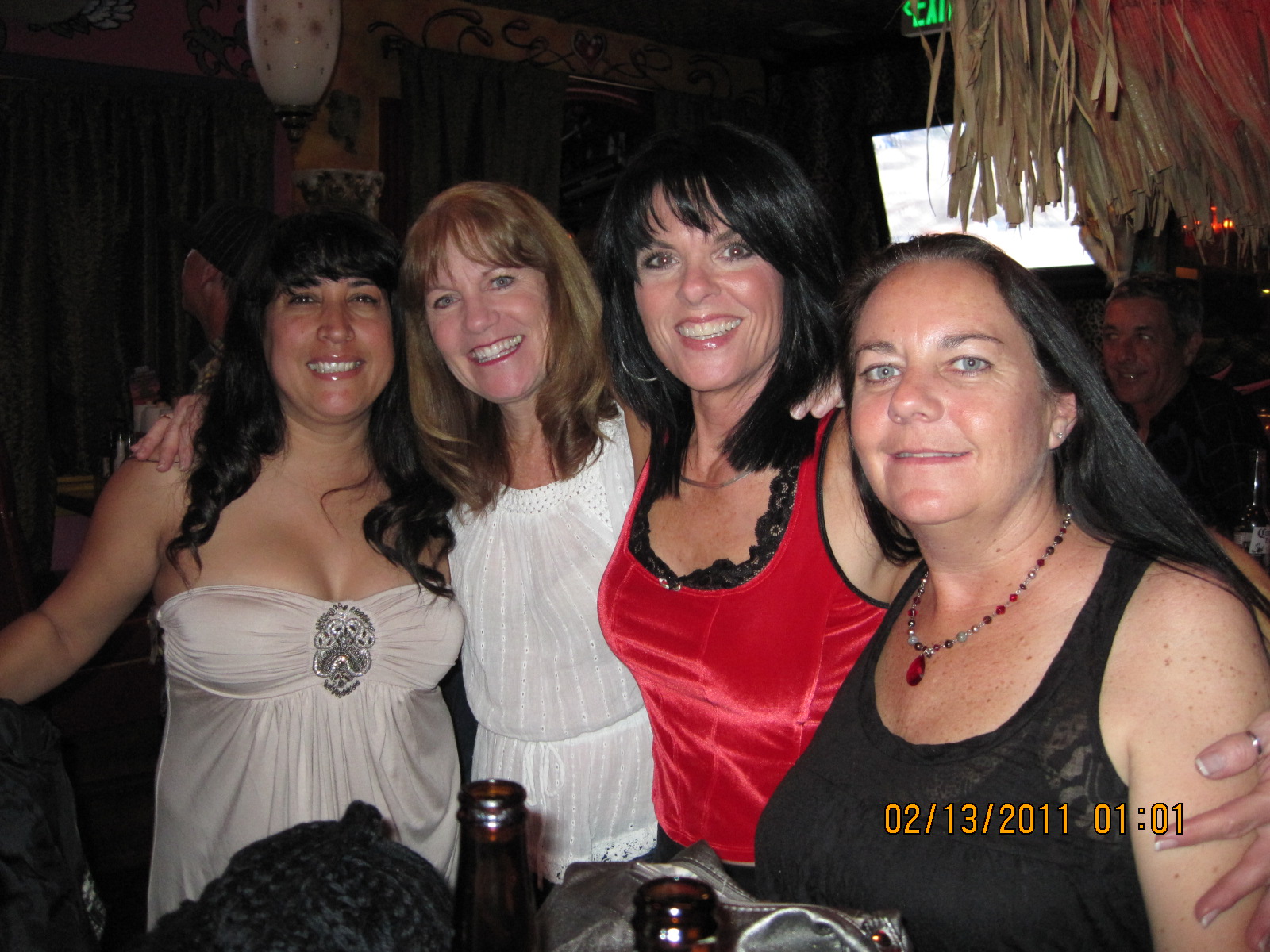 The SALSA event was a great success! Check out all the pictures and results. Thank you Catherine!!! Great job!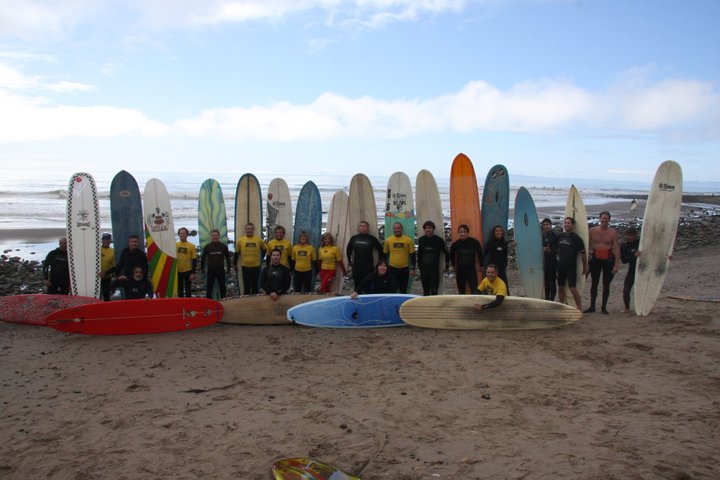 Just before we all paddled out at Rincon Point March 27, 2011 for the Rincon Invitational. The team received a second place award. Thank you to all who made the trek and surfed your brains out for two hours.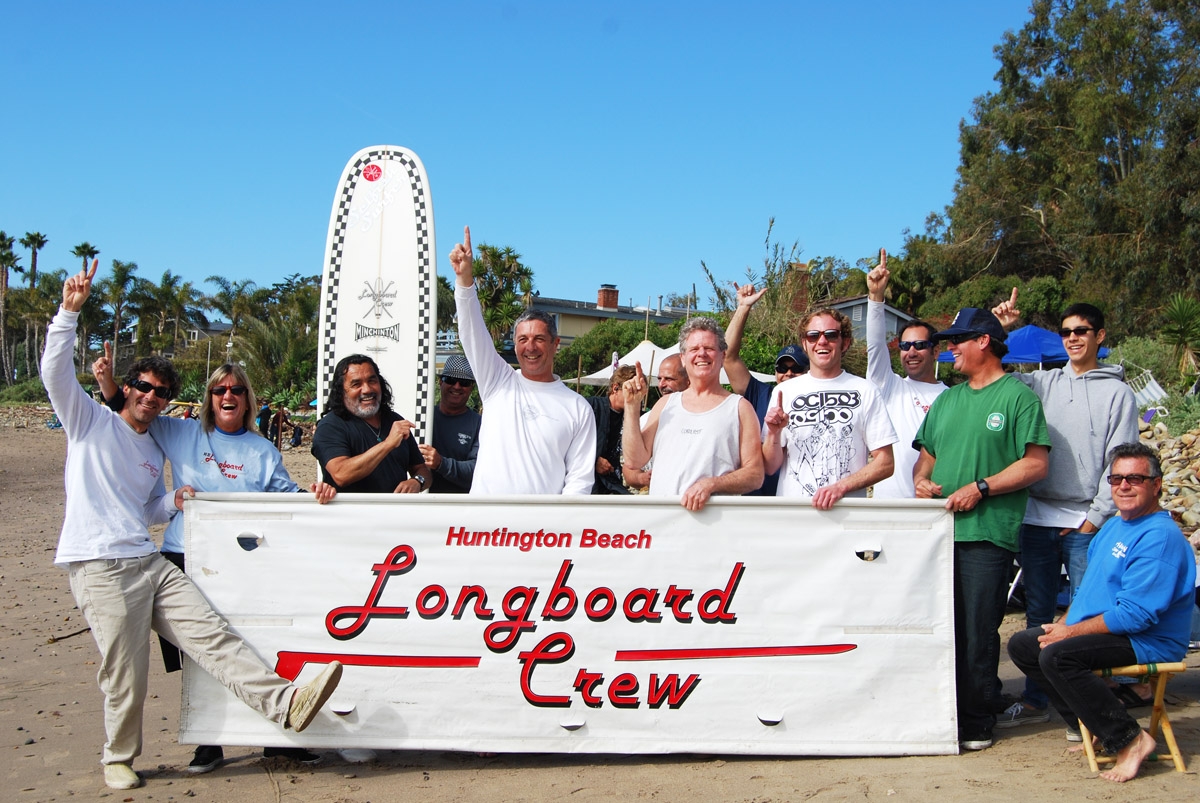 In April 2011, we held the 11th Annual Robin Hauser Surf n Bowl. This event has been a favorite of our members, mostly the better bowlers in the Crew. The bowling can count for a bigger part of the score if you bowl over 100. Fortunately most of us can barely break 100. Miff led the pack with a 149 but he did not participate in the surfing. Total participants this year was 19. The surfing was held in fun 2-3 foot surf on the northside at Huntington Beach pier. Joey won the surfing handily with some long noserides and several helicoptor 360's. Bill Brewer went to the bowling alley with a second place in surfing so he was behind in the pin count by 22 pins. Well Bill managed to bridge the gap by bowling a 137 to beat Joey's 114 by 23 pins! Final results are:
Bill Brewer 1st Place Mens
Joey Hawkins 2nd Place Mens
Gary Sahagen 3rd Place Mens
Tim McCollum 4th Place Mens
Lisa Beebe 1st Place Womens
Cody English 1st Place Juniors
Andrew English "I Suck at Bowling" Award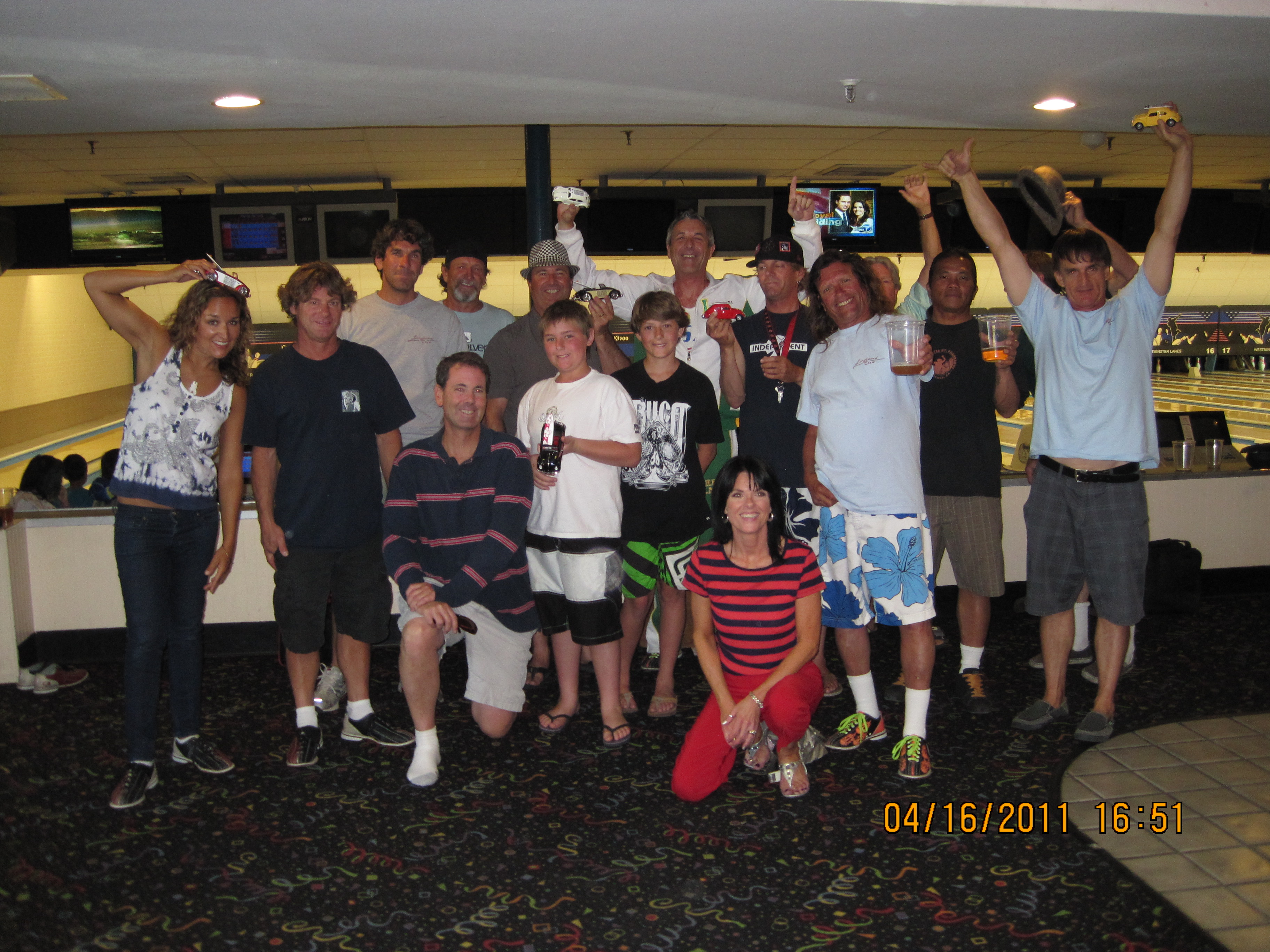 In May 2011, we held our monthly meeting and watched Free and Easy. Lifetime member Chuck Linnen and the Longboard Crew honored Bill Fury with a lifetime membership. Bill will be inducted this summer as Local Hero in the Surfing Walk of Fame.
In June 2011, we honored Gordie with a lifetime membership. Gordon Duane was a member of the Hole in the Wall Gang surf team. Some of the past members were in attendance and told some good stories. The HITW Gang will be honored with a Surfing Walk of Fame induction this August 4th, 2011 at Jack's Surfboards in Huntington Beach.
In July, we honored Christian Mondor with an honorary lifetime membership. The Crew committed to the Blessing of the Waves.
The Crew had a good showing at The Call to the Wall on July 23-24, 2011.
Joey Hawkins won a second place award, Mary Bigler took 3rd in her longboarding division and Gary Sahagen received a fourth place trophy. Tim, Diego, Josh, Kelly, Noel, Don and Bill surfed well with some advancing to the second round. Chuck could not attend and cancelled. Laura, Catherine and Aryn were no shows.
The annual elections were held August 10, 2011 at Marios Mexican Restaurant with a full house. Seven were nominated to seven positions and after closing nominations all nominees were duly appointed to the board of directors.
Father Christian Mondor accepted his honorary lifetime membership. A blessing of the Longboard Crew and a prayer for Gordie were given by our surfing priest at the bequest of Chuck Linnen. RIP Gordie.
The September meeting was well attended and the movie was enjoyed by all. The new board was introduced and Fae Fruitwala was elected as our new secretary. Tim McCollum has assumed the role of treasurer. Thank you to Tim and Fae for stepping up to help!
September we had the Annual HB City Contest for residents. The Hurley Pro at Trestles also went off as well with some all time surf! The crew planned for the upcoming surf season (October and November) with great anticipation seeing all the great surf in September.
October did not disappoint! The crew had the end of the year award ballots prepared and announced the Northside Classic for November. A small team was going to attend the Tourmaline CSC event but the deal fell through at the last minute. Oh well, we would have had to surf for Long Beach! The event was held without a team from HB.
November we held the Northside Classic in extremely challenging conditions. Results will be announced at the December 14th Christmas Party. End of the year awards for 2011 will also be presented at the party. Tim, Tom, Sean and Gary represented the Longboard Crew at the Thanksgiving Weekend CSC Tournament in La Jolla Shores. The team had no finalists but finished 8th overall which was the teams best finish for the year. There were ten clubs attending the event in clean 2'-4' surf.
The 2012 Gathering of the Tribes went off in beautiful conditions. The first coalition event of the year saw the Longboard Crew step up a bit from last year. We had a small but strong team which included Joey Hawkins, Kelly Kraushaar and Mark Stewart.
We had a good showing for a small team. We had less than ten surfers where a full team is 25 surfers. Joey Hawkins got a ten point ride in the semi's. We had two surfers make the finals:
Grand Master – 36 competitors with Tim M getting 25th and Gary S getting 8th.
Masters – 36 competitors with Thomas da S and Sean R tied for 19th, Dwayne L got 16th and Joey H got 10th.
Senior Men's – 30 competitors with Kelly Kraushaar in 10th and Mark Stewart in 6th.
Boys 14 and Under – 12 competitors with Diego Q in 9th.
Shortboard 49 and Under – 36 competitors with Gary S in 31st and Kelly K in 25th.
Club Presidents – 12 competitors with Gary S coming in 3rd.
Joining the fun as spectators were Kathleen M., William B., Al, Karl, Rocky and Tony Jones.
Our 27th Annual Pier Paddle happened on February 4th, 2012! Bill Brewer took the title for the third straight year with a time of 6 minutes 47 seconds.
Thanks to all the volunteers for the Surf City USA Marathon's Beer Garden: Alex, Wendy, Thomas, Bob, Cary, Al, William, Tim, Kathleen, Bret, Bill, Myra, Grace, Mark and Gary.
The Rincon Invitational happened on March 24th and then again in April 15th due to a rain delay. We had representatives at both days events and came home with a second place in the "Shared Waves" category. This is a fun event that is made up of a ten man team that surf for one hour at the point catching all the waves we want. Extra points are given for sharing waves together.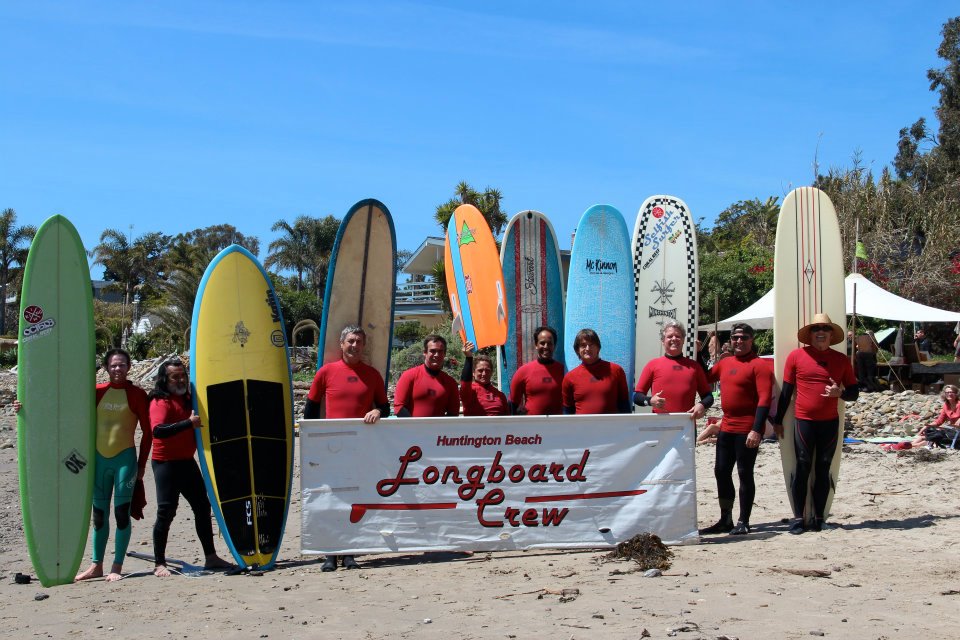 Rincon Team 2012: from left to right is Shane Jones, Tony Alvarado, Gary Sahagen, Shon Esparsa, Kim Hamrock, Sean Rathan, Tim McCollum, Tony Jones, Bill Brewer, Thomas Da Silva. (not pictured but surfed were Mary Bigler, Lisa Beebe, Bill Hopkins and Hans Avemaria) Also attending were Myra Brewer, Kathleen McCollum, Bruce Gabrielson and Wendy Sahagen who were part of the support team. Thank you all!!!!
Next up the Longboard Crew had the 13th Surf N' Bowl. The Crew established the Surf N' Bowl in the year 2000 with the bowling taking place at Kona Lanes in Costa Mesa. Joey Hawkins and Eddie Enriquez battled it out for first place. It came down to the bowling and in a controversial win Eddie edged out Joey narrowly. Well the saga continues as we hope to see Joey and Eddie have a rematch someday. Robin Hauser came on the scene shortly thereafter and started a reign as he was an excellent surfer and bowler. His untimely death shocked the Crew. We immediately decided the Surf N' Bowl would be renamed the Robin Hauser Surf N' Bowl in memory of our friend, fellow Longboard Crew member and unbeatable Surf N' Bowl Champion.

The event started at 6th Street, April 21, 2012. Donuts and coffee were served up. Surfboards, longboards, SUP's, boogie boards or bodysurfing were all allowed for the surf portion of the event. Surf 2 twenty minute heats and gather points (pins). These points (pins) are accumulated and tallied. The scores were posted later in the day at Fountain Bowl. One game score was added to the surfing points to get the final scores. Thank you to the volunteers, supporters and the two judges, William and Sean. The results:
1st Place Open Men - Bill Hopkins
2nd Place Open Men - Noel Terrado
3rd Place Open Men - Tim McCollum
4th Place Open Men - Gary Sahagen
1st Place Open Women - Marilyn McCart
1st Place Grom - Maddie Comargo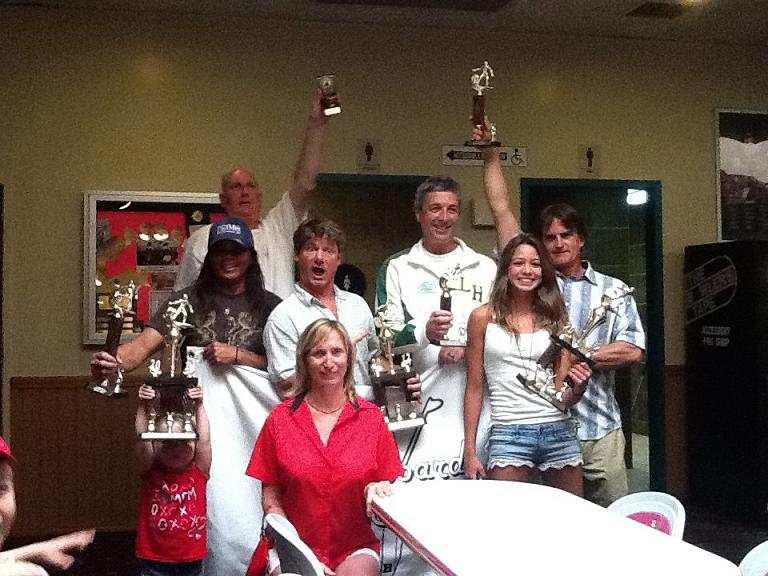 ---
Santa Cruz Memorial Classic 2012: It looks like we will not be sending a team to Santa Cruz this year. I am blaming the economy and gas prices.
The Chili at the Beach asked the Crew to run a beer garden in the middle of 5th Street. We accepted the assignment and had a blast on June 16, 2012. Thank you to all who volunteered: Kathleen, Joanne, Myra, Bill, Tim, William, Tony, Johnny, Glenn, Al, Reno, Noel, Felipe, Thomas, Marilyn, Maddie and Gary.
Malibu Boardriders Call to the Wall 2012 Finalists pictured below from left to right are Todd, Morghan, Gary, Maddie and Bill (Kelly MIA) Congrats!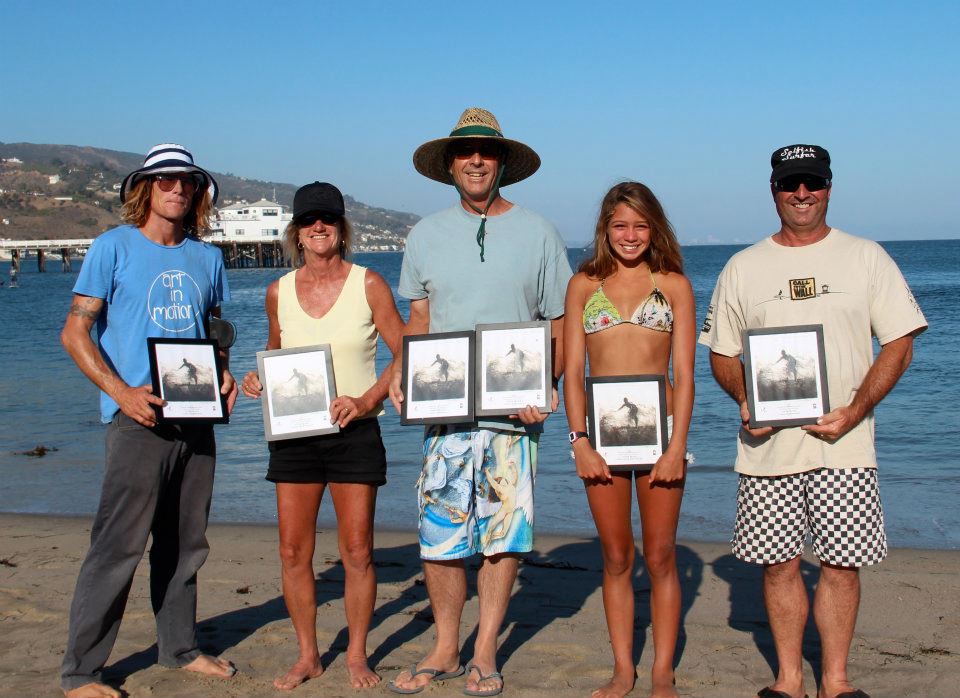 The team for Malibu Boardrider's Call to the Wall 2012 was Gary, Tim, Bill, Sean, James, Kelly, Todd, Trent, Jennifer, Morghan, Maddie, Gabriel, Robin, Scott (Pod) and Matt. Nineteen clubs entered and we placed ninth as a team. Six of our surfers made the finals: Maddie, Morghan, Kelly, Bill, Todd and Gary. Great surfing by all of the surf team. Thanks for the support on the beach by Kathleen, Myra, Karl, Stephanie and especially Ace Aseltine who came down Saturday to cheer us through the pre-lims!
The Oceanside event was tons of fun! Our new tandem entry for the Longboard Crew, Aaron and Leslie Lindquist took First Place!!!! Our team got 8th out of 14 clubs. Maddie got Third Place in the girls 14 and under. Jonathon, Todd and Gary got awards for their efforts as well! We had help from Tamra, Kathleen O, Tim, Gabriel, Trent, Steph and Larry who surfed well but were eliminated before the finals. Our cheering section included Eli, Kathleen M and Noel. Good job to all!!!
The Dale Velzy Surf Classic 2012 was fun in small but clean waves. 1-2 footers rolled in Saturday morning and the Longboard Crew was well represented by Larry, Tim, Todd, Mike, Trent, Gary, Kathleen, Wendy and Sean all getting wet at Doheny. Congrats to Todd for 3rd place and Tim for fifth place in the finals!!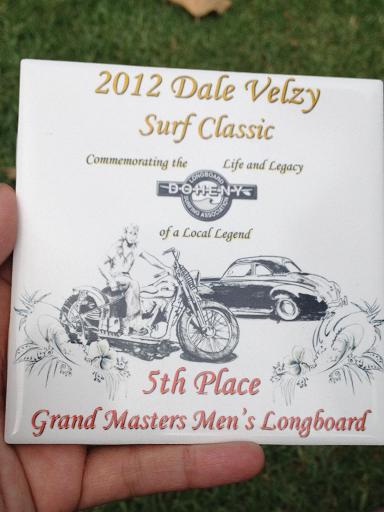 The MSA Malibu Classic held September 7-9, 2012 had a small team which consisted of a mix of novice, intermediate and seasoned competitors. Thanks to all who showed up, surfed, hung out and generally supported the Longboard Crew's Surf Team! The competitors were Todd, Gary, Larry, Jon, Gabriel, Maddie, Stephanie, Artie(surfed for CSC and HBLC) and Tim. Kathleen, Wendy, Bill(surfed for CSC and got fourth overall), Myra, Ace, Tony and Barry came to support and join the party which included paddling out to a boat offshore for fish tacos. There were great waves and some exhibitions by Tom Curren, Courtney Conlogue and Lisa Andersen to mention a few. Todd placed second for the club.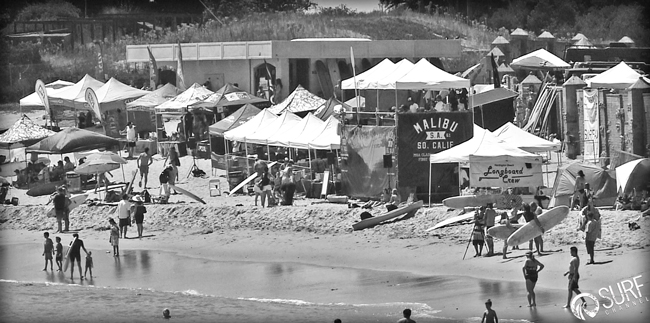 Da Crew at Da Bu for the 2012 MSA Classic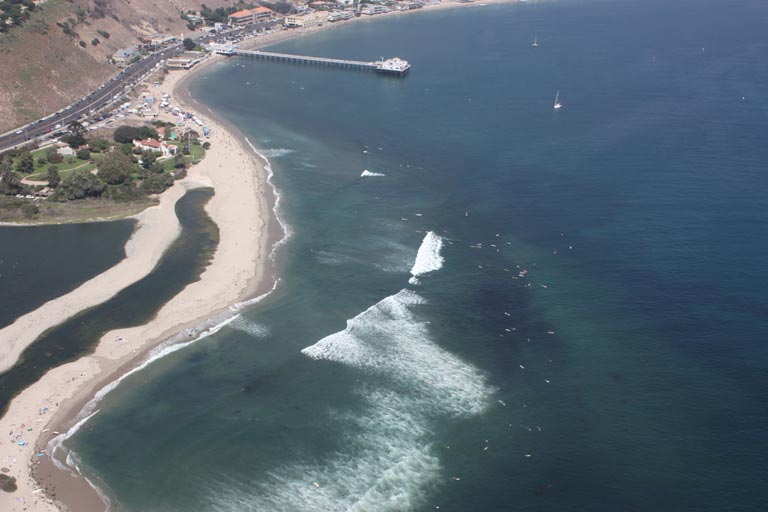 The HB City End of Summer Contest for residents September 15-16, 2012 was held during Surf City Days. Seventy Sessions and Victory SUP races were held concurrently. A new judging criteria was in place this year. The City continued with an open format that included traditional surfboards in the same heats as short boards. They still do not allow any paddles. The new judging criteria allowed higher scores for radical moves versus a more flowing style. Our own Joey Hawkins was on fire and showed that radical moves on a longer board can be very impressive. Joey's picture made the front page of OC Register's The Wave!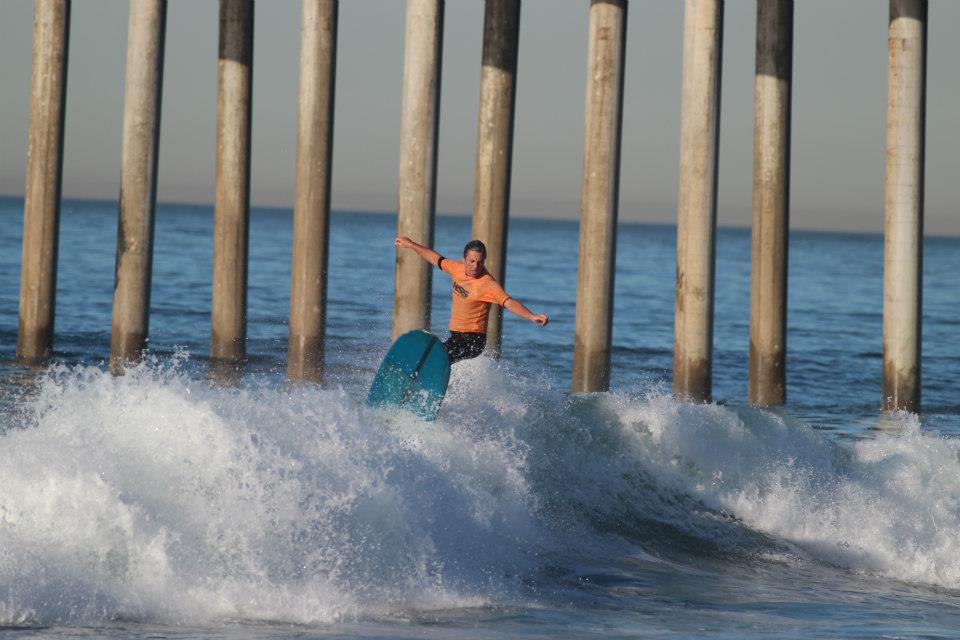 The 5th Annual Blessing of the Waves occurred and the Longboard Crew helped our own Lifetime member, Father Christian Mondor. For those who are not familiar with the event, it is for all faiths or those who have only a love for the ocean. This is has been a fun event that is aligned with the Longboard Crew's mission of giving back to the community. Rick Ischinger blows a conch shell during the event.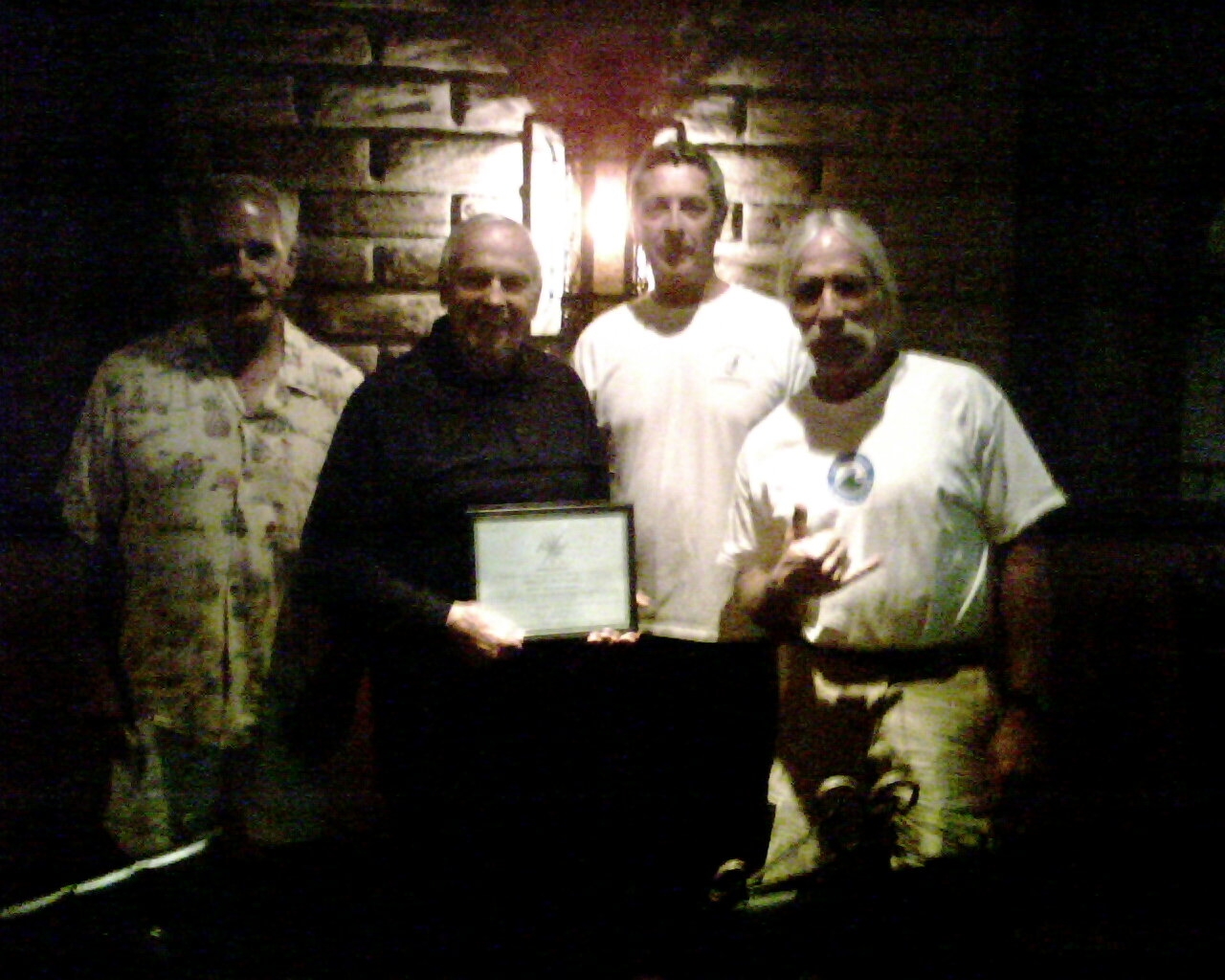 Pictured from left to right are Chuck Linnen, Father Christian Mondor, Gary Sahagen and Rick Ischinger.
The Halloween Logjam in Sunset Beach (which is now HB) was held in fun 2-3 foot surf at Broadway near Capt. Jack's Restaurant. The crew had some competitors that went to the finals in the amateur divisions, the father and son team of Mike and Trent. Way to go! Bucky Barry (pictured) was the pro division winner.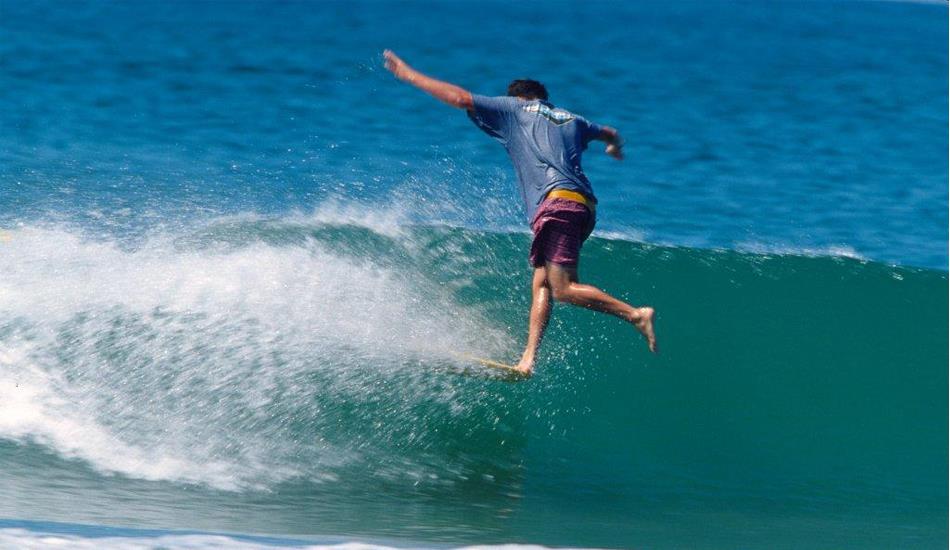 The HBLC Northside Classic was scheduled on November 17, 2012. The event was not well attended so we cancelled the contest and just went surfing. The waves were great!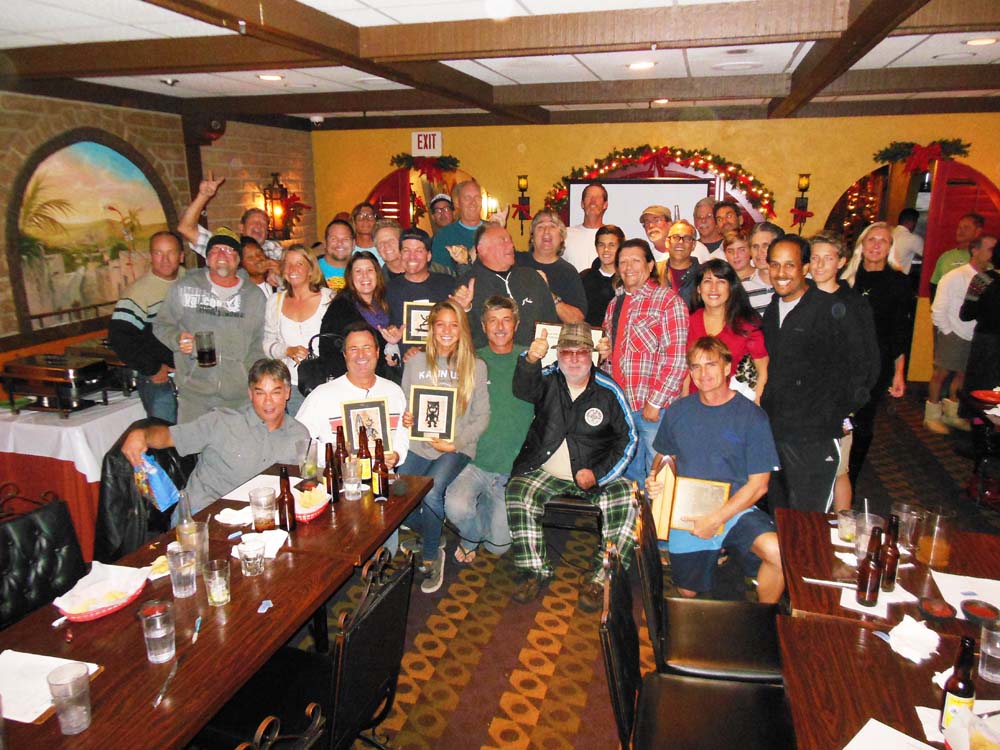 Our 2012 holiday party at Mario's was well attended. We had a complimentary all you can eat buffet and a canned food drive. We collected about $600 for our charitable causes. The 2012 awards were given out to Young Lioness, Maddie Comargo; Comeback Competitor, Joey Hawkins; Most Improved, Bill Brewer; Perpetual Trophy, Tim McCollum. Gary Sahagen was awarded the Huntington Beach Longboard Crew's Lifetime Achievement Award.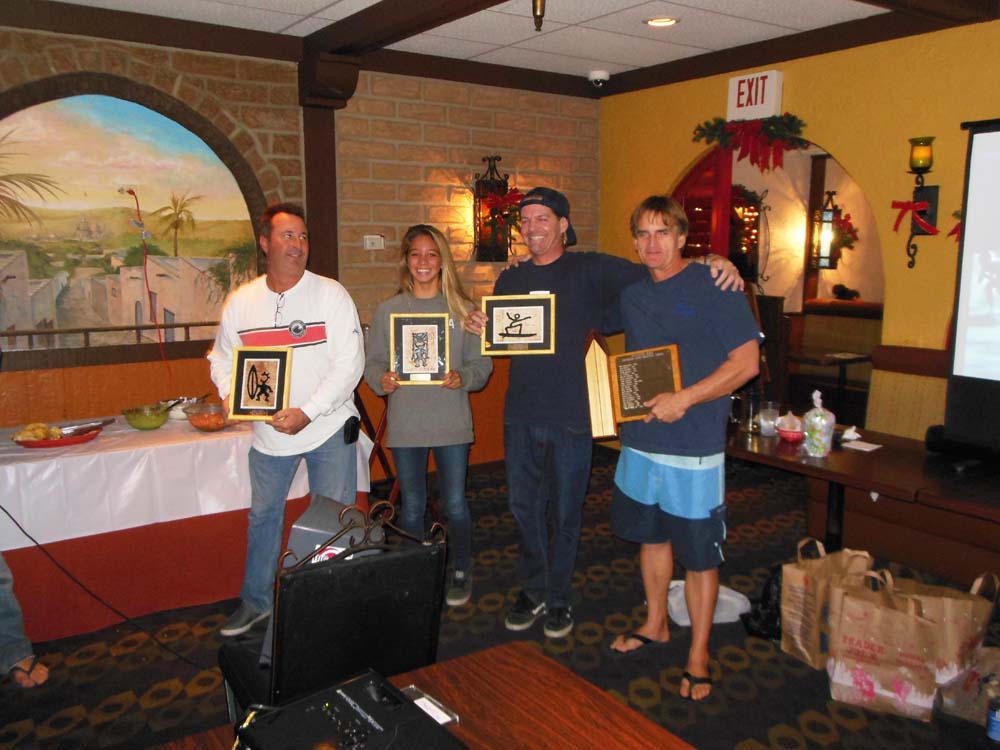 The Longboard Crew sent a team to the DLSA Gathering of the Tribes on January 5-6, 2013. Our team got ninth out of 17 teams. A great article about it appeared in the OC Register written by Laylan Connelly.
The 28th Annual Pier Paddle was held on February 2, 2013. The event was won by Shane Jones with a 5 minute and 55 second time. This set a new record for the race. It was low tide, small waves and no wind. Perfect conditions for a fast race. Noel Terrado was second with a time of 6 minutes and 37 seconds. Third place and also beating last year's time was Tim McCollum finishing at the 6 minute and 48 second mark. Thomas Da Silva, Sharon Lee and Maddie Comargo rounded out the top six with times of 7' 21", 7' 28" and 7' 48" respectfully. Laylan Connelly wrote an article which appeared with photos by Pat Fabian in the OC Register on February 5 in the Local section.
February 3, 2013 the Crew returned to the beach not to surf but to host the Surf City USA Marathon's Beer Garden for the sixth year. If you missed out you can join the fun at the 2014 event on February 2.
In March, the Master Chef filmed on the beach and many crew members participated. Tim McCollum had a starring role as an extra.
The Crew supported the Rincon Invitational with a team again for March 16, 2013. Thank you for coming up to surf Rincon and winning third place for wave sharing. Bill, Tim, Mike, Gary, Tony A., Shane, Lee, Wendy, Myra, Yvette, Hans, Jon, Pete, Dakota, Derek, Shon, Tony B. and Steve.
In April the crew served up the 13th Annual Robin Hauser Surf n Bowl. The surf was fun and so was the bowling. Thank you to all the participants and Jim Angeley for the vintage surfing monkey trophies. Results were:
Open Men 1st Gary S.
Open Men 2nd Steve H.
Open Men 3rd Bill H.
Open Men 4th Mike W.
Women 1st Shelly C.
Grom 1st Marria B.
I Suck Awards Al S. and Kathleen M.
For May 2013 the club went traveling from Malibu to Swamis and there were waves up and down the coast. We were getting the team geared up for Malibu Boardriders' Call to the Wall in June. By the time June rolled around the team was ready to step up and meet the call. We sent a strong team up but met with problems from the get go. Injuries and judging aside it was a fantastic tournament with epic waves at the world famous Surfrider Beach. Imagine a perfect wave with only six surfers out. Maddie Camargo took first in her longboard division and fourth in her shortboard division. Todd Messick brought home a third place trophy. Many club members made it through a round or two.
Oceanside was next followed by another Malibu event in September for the surf team. The Blessing of the Waves and the HB City Contest for residents happened in September as well. Many members supported these events. Finally we attended the 24th Annual Dale Velzy Surf Classic and Luau at Doheny State Beach. It would have been Dale's 86th birthday! What a blast with Stewie taking home a first place! Way to go Mark!
October 2013 and summer finally arrives in Huntington Beach. Warm water and some offshores provide some much needed surf for us. Hope you goy some with the crew. The team hit La Jolla and Cardiff for a couple of coalition events. Tim attended La Jolla as a team of one. This represented one of our top team places for the year! Way to go Tim!
The Cardiff Reef Invitational in October was attended by a few more members and the team placed seventh out of 20 clubs that got invited. John, Jeremy and Gary placed third in their divisions. The camping was great and supporters were there in force. Thanks to Kathleen, Tim, Irena, Chris, Todd, Mark, Ted and Noel.
The Huntington Beach Longboard Crew's Surf Team headed for La Jolla in November 2013 for the Cardiff Surf Club's and the Pacific Beach Surf Club's Tourmaline Club Challenge. We camped all weekend at Tourmaline Beach Park. Great food, company and the team did quite well. Thank you to all who came down. Our team's finalists included John W. who got third in classic surfing. Awesome job by Maddie C. who got fifth in classic surfing and sixth in shortboard. Mark Stewart absolutely killed it all weekend with a third place in shortboard and taking home first place in classic surfing with some incredible waves in all his heats. Stewie also had fresh caught halibut served up for us after the awards ceremony! Gary S. won a third place in the presidents heat. Our team cumulated points based on how far you got in the contest. Jeremy G. made it to the semis, Stephanie D. advanced and Duncan M. advanced in both classic surfing and SUP heats. Sean R., and Larry C. were pitted against each other in their opening heat. They had a strategy to get points and it was Sean who went down in a show of personal sacrifice as he took one for the team. Thank you all!
1. Oceanside Longboard Surfing Club OLSC
2. Windansea Surf Club WSC
3. Long Beach Surf Club LBSC
4. Pacific Beach Surf Club PBSC
5. Cardiff Surf Club CSC
6. Doheny Longboard Surfing Association DLSA
7. Huntington Beach Longboard Crew HBLC
8. La Jolla Shores Surfing Association LJSSA
9. Malibu Surfing Association MSA
10. Swami's Surfing Association SSA
11. Ventura Surf Club VSC
12. San Diego Surf Ladies SDSL
In December of 2013 there was a great Mario's gathering with lots of swag to go around. We celebrated a successful year with a vote for member annual awards which were presented at the January gathering. The HBLC Surf Club award winners for 2013 are Robin Bewsee for Comeback Competitor, Maddie Camargo for Young Lioness, Zoe Camargo for Most Improved and Gary Sahagen for the Annual Perpetual Award Plaque. A canned food drive went to Share Our Selves. Thanks to your generous donations we delivered a van full to them! The Crew attended the Colette's Childrens' Home fundraiser where the we were able to participate in raising a million dollars for this great Huntington Beach based charity.
On the 21st of December the Morgan Wave of the Day fundraiser generated a nice donation for the Fireman's Fund. Thank you Chris Sardelis and all the sponsors who gave generously.
2014 started off right with a strong showing for the HBLC Surf Team at the Gathering of the Tribes event at Chuch Point, Trestles, San Onofre. 18 surf clubs from all over California sent surf teams consisting of age categories from 14 and under to Extreme Legends 70 plus years young. Our Extreme Legend was 77 year old Chuck Linnen who placed third. All types of surfboards were utilized to compete against such as Stand Up Paddle (SUP), fishes, thrusters, quads, classical single fins and some high performance hybrids. Being a point break there were some long rides with a lot of tricks and crash landings, some right on the sand! In fact, there were several surfers who sacrificed their bodies to try for a few extra points for the team. Sean and Noel left the beach with bloody wounds. Noel ended up 2nd in the shortboard division!
Thanks to the strongest HBLC Surf Team we have sent from Huntington Beach in a number of years, we finished 4th overall. Finalists besides Noel and Chuck included Bill (two finals), John (two finals), Gary (two finals), Quinten (two finals), Terry and Maddie! Our supporting cast included Kelly, Todd, Sean, Larry, Shaun, Zoe, Stephanie, Deborah, Scott, Andrew, Tim, Ted, Duncan, Asa and Thorsten! Kathleen, Wendy, Diana, Chuy, Michael, Don M, Don B, Steve and Karl rounded out the crew from HB. Thanks to all the club members who attended this event. We could not have done so well without your help.
On February 2, 2014 (Superbowl Sunday) the HB crew manned the Surf City USA® Marathon's Beer Garden from 9am - 2pm. Over 20,000 runners were entitled to two beers (over 21 of course) after they finished the race. Thank you to all the volunteers! All went smoothly and as always we have impressed. Thanks to Kathy Kinane, Amy, Celeste and Diana of the Surf City Marathon. This was the HB Longboard Crew's seventh year running the Surf City USA® Marathon's Beer Garden!
The longest standing paddle race around the Huntington Beach Pier has got to be the Longboard Crew's Annual Pier Paddle. The history of this race goes all the way back to when the first race was held on November 15, 1986. The race was one of the crew's first events followed by a surf contest on December 19, 1986 at the pier. The third big event was a trip to Quatro Casas in January of 1987. The Pier Paddle has been a long standing tradition and is a hallmark from a time when surfing contests were simply paddle races around buoys that ended with a race to the shore. Even into the 1960's, there were paddle races as part of the US Surfing Championships at the pier. Our 28th Annual Pier Paddle was held February 16, 2014. The final results were:
1st Place: Shane Jones at 6 min 22 sec
2nd Place: Tim McCollum at 7 min 37 sec
3rd Place: Noel Terrado at 8 min 22 sec
4th Place: Thomas Da Silva at 9 min 14 sec
5th Place: Steve Hafke at 10 min 38 sec
6th Place: Glenn Young at 11 min 13 sec
On March 22, 2014 we attended the Rincon Invitational. The surf team consisted of Tim, Bill B., Don B., CJ, Scott, Andrew, Quinton, Jeremy, John G., Gary, Sean, Hans, Todd, John W., Christian and our support team on the beach: Myra, Kathleen, Irena and various canines!
Great job getting second place behind Malibu Surfing Association!
The Crew hosted the 14th Annual Robin Hauser Surf n Bowl on April 12, 2014. The surf was contestable 1-3 foot at Sixth Street. Mike Stone won the surfing with the highest points for his six waves. The bowling was dominated by Steve Haffke with a 215 bowling score to take first place overall. Mike came insecond with Bill Brewer and Tim McCollum taking 3rd and 4th. The top females were Stephanie Dufour for Women and Maddie Camargo for the Grom division. Zoe Dufour took the "I sucked at Bowling" award. Thanks to all the participants for a fun time!
The Crew hosted the 2014 US Deaf Open of Surfing on June 21-22 in Huntington Beach. Surfers from all over the world came to compete for the World Deaf Surfing Title. Darcy De Lao was the reigning champ but in a heated final Kieran Grant was crowned the new world champ!
The Surf Team headed up to Malibu July 19-20, 2014 for the 23rd Annual Malibu Boardriders' Call to the Wall. Twenty surf teams showed up to compete at Da Bu. Thank you to all the team riders who went to represent HB!! Congrats to Maddie Camargo for her first place finish in Women's Shortboard!! Other members who performed at the Bu in 1-3 foot fun surf were team captain Tim, Terry, Todd, Ted, Bill, Ron, John, Mark, Kathleen, Stephanie, Zoe, Leslie, Aaron and Noel! A good time was had by all!
In August the surf team headed to Oceanside for the 30th Annual Longboard Contest hosted by the Oceanside Longboard Surfing Club. This is always one of our favorite events because of the legends and pros who are there for the Guy Takayama Pro Longboard events. PT, Nuuhiwa, LJ Richards, Jericho and Guy put on an exhibition heat. Our surf team from HB did well with most everyone advancing to Sunday. Mark Stewart stood out with a first place in his division and he also won some money surfing the pro division which probably paid for his weekend, at least. Gary made it to the finals for a second place but got dinged for standing up after the horn which demoted him to sixth place. Our team placed ninth out of sixteen teams/clubs. Thank you to all the team surfers and supporters who came down including Tim, Sean, Shaun, Steve, Kathleen, Mark, Gary, John, Felipe, Pilar, Larry, Lee, Ron, Duncan, Quinten and Thorsten.
The 2015 fiscal year started on September 1, 2014 for the Huntington Beach Longboard Crew. The 2015 fiscal year board of directors are seated and confirmed as of September 1, 2014.
September saw the crew members host a lunch for the HB City Surf Contest contestants on Saturday. We asked that the contestants pack their trash and take some of the small plastic and butts with them. Our club members did fairly well on Saturday. On Sunday there was a significant change in the judging criteria and classic surfing was deemed null and void according to the announcer (who was not there on Saturday). Despite the bias toward "butt wiggling" we saw several classic surfboards do well in the older divisions ranks. Hopefully this was an aberation and the judging will return to the way it is supposed to be, fair and unbiased.
The crew held a beach clean up for National Beach Clean Up Day on September 20, 2014 on the South Side. Thank you for all the members who helped with this important chore.
There were a few members who participated in the Dale Velzy Classic and Luau on September 27, 2014. John Willson, Tim McCollum both made the finals! Congrats!
October 18-19, 2014 we fielded a small team to the Swami's Surfing Association's 20th Annual Return to the Reef Invitational. Our three man team managed to have all advancing through round one. The standout was John Willson who finished second in his age division overall.
The senior olympics held October 25, 2014 on the HB pier southside had many club members participating. Duncan McClane won first place in his age division. Roy Crump, Bob Delmer and John Willson were other club members that made the finals.
The last surf club event for 2014 was held on November 1-2 at Tourmaline Beach Park. We had a small team and got 10th Place out of the 12 teams. Standouts were Ralph, Todd, Felipe, Duncan and John who advanced to Sunday's finals. Thank you to Noel, Kathleen, Suzie, Tim and the other supporters who traveled all the way to La Jolla.
The next event is coming up in January 10-11, 2015 for the DLSA's Gathering of the Tribes at Church Point, Trestles, San Onofre.
Final GOTT Surf Tribe Ranking
| | | | |
| --- | --- | --- | --- |
| Rank | Tribal Name | Abv | |
| 1 | Windansea Surf Club | WSC | 2670 |
| 2 | Oceanside Surfing Club | OLSC | 2655 |
| 3 | Doheny Surfing Association | DLSA | 1970 |
| 4 | Long Beach Surf Club | LBSC | 1925 |
| 5 | Pacific Beach Surf Club | PBSC | 1410 |
| 6 | Huntington Beach Surf Tribe | HBLC | 1060 |
| 7 | Coronado Surfing Association | CLSA | 1015 |
| 8 | Malibu Boardriders Club | MBC | 890 |
| 9 | Cardiff Surf Club | CSC | 860 |
| 10 | La Jolla Shores Surfing Assoc | LJSSA | 820 |
| 11 | Malibu Surfing Association | MSA | 800 |
| 12 | Swamis Surfing Association | SSA | 760 |
| 13 | Pedro Point Surf Club | PPSC | 470 |
| 14 | Santa Barbara Surf Club | SBSC | 350 |
| 15 | Big Stick Surfing Association | BSSA | 310 |
| 16 | Estero Bay Surf Club | EBSC | 160 |
| 17 | Ventura Surf Club | VSC | 70 |
Our HB Surf Tribe this year consisted of 29 surfers: Trent Frank, Quinten Hegberg, Andrew English, Shaun Gonzales, Clay McCutcheon, Shane Smith, Kelly Kraushaar, Thorsten Hegberg, Sean Rathan, Larry Casas, Tim McCollum, Noel Terrado, Felipe Bascope, Doug Scott, Scott English, Kris Kroo, Dwayne Lovrien, Gary Sahagen, John Willson, Terry Carmadella, Ron Pendleton, Jamie Heraver, Jennifer Perry, Suzie Edwards, Deborah Jeffs, Mike Huseman, Ralph Yeramian, Breanna Schroeder and Bobby Freidman.
January 31, 2015: 29th Annual Pier Paddle Race was held at 9am on the southside waters' edge.
The Results for the 2015 Pier Paddle: Shane Jones, 6'23"; Sophia Tiare Bartlow, 6'47"; Tim McCollum, 7'19"; Matthew Taylor, 7'34"; Noel Terrado, 7'35"; Bill Brewer, 7'37"; Thomas DaSilva, 8'58"; Glenn Young, 10'; Ron Harris, 11'37"; Randy Lyford, incomplete.
February 1, 2015 - 8am til 1:30pm was our 8th year of hosting the Surf City USA® Marathon Beer Garden
We served over 5000 beers to the runners after the race. Thank you to all the volunteers who came down to help pour, check ID's and "herd" the runners through the beer garden safely.
In March the HB Surf Team headed to Rincon for the Rincon Invitational. The 10 surfers from HB got to surf Rincon for an hour. We surfed our brains out and received 2nd place for our efforts. Malibu Durfing Association took first, same as last year. We stopped at Olas Mex Grill in Camarillo for a meal on the way home.
April 11, 2015 was the 15th Annual Robin Hauser Memorial Surf n Bowl. Surf was small but contestable. Scott English took the top spot in surfing. Top bowler was Mike Stone who won the event. 2nd-Bret Zschomler, 3rd-Michael Gomez and 4th-Steve Haffke completed the top four in the Men's division. Top Woman was Wendy Sahagen with Kathleen, Jennifer, Dianna and Joanne pressuring with great performances. The top grom honors went to Ash Stone and "winning" the I Suck (at bowling) award, Ralph Yeramian.
In May we had one event up north and only one surfer rose to the challenge. In doing so Shane Smith took down the La Jolla Shores Surfing Association! They came is 16th and Shane's performance placed our HB Team place to 15th in the Santa Cruz Memorial Day Classic at Steamer Lane.
June we had fun surfing mostly. There were several members who are now Guiness Book of World record holders for joining the riders of the biggest surfboard
The Surf Team entered the Malibu Boardriders Call to the Wall held July 19, 2015. There were twenty-one teams with our team placing 19th. Then in August the team hit Oceanside for the Guy Takayama and OLSC tournament. Our team did 13th place out of 15 teams. We didn't let that stop us from throwing a wild party for some out of towners at the Huntington Hyatt. This little fun(d) raiser netted the club much needed funds to support our projects like the one below.
There was a HBLC project that was completed in September to post window posters along PCH at George's Grill. If you happen to stop by we also have a list of names in the area in front of the store. Come down and let George and his daughter Georgina know that we appreciate there support of the local surfers and photographers.
If you have not visited George's Grill, go get some!
September 26, 2015: HB Culture Magazine held a Community Appreciation Day which included a surfing Pro-Am at Beach Blvd./PCH in HB, CA. Noel Terrado won first with Seahag in second in the over 50 category. Noel rode a borrowed short board with Gary on a longboard.
October 10-11, 2015 the HB Surf Team headed to Tourmaline in La Jolla for the Club Challenge. Our team was smaller than normal(which was small already). At least we supported the event and surfed great waves near there. Our team got last place for the first time ever in our 30 year history. Yikes!
The HB 80's event hosted by Bud Llamas' 17th Street Board Shop was held on October 17, 2015. This coincided with the 30th Anniversary of the HBLC and the 40th Anniversary of the Signal Hill downhill skate board run. The day was a lot of fun with all the boys hanging all day long! Terry Carmadella got the Senior Grom title away from Billy Webb, Bill Hopkins and Seahag! Good job to Terry and overall triple crown of retro surfing winner, Jeff Deffenbaugh!!! Billy Hopkins was great with a second place behind Jeff!
If you have not read the latest issue of HB Culture Magazine you missed an article about HBLC
November 19, 2015 there was an Art Walk Gala at the Art Center in which we participated in ways that are typical for this club, we ran the bar. The event hosted 40 artists and their wares. There was a live bands, fire dancers, food trucks and beer!
The Christmas party was held December 9th at Mario's. The annual canned food drive successfully sent a carload of goods via Rick to ShareOurSelves.org in Costa Mesa. We also raised several hundred dollars in cash for our annual charitable contributions. We are committed to donating and supporting the following charities: Kevin Woyjeck Explorers for Life, Collettes Childrens' Home, Share Our Selves and Assistance League of Huntington Beach. Our year end awards went down like this:
2015 Perpertual Award - Bill Hopkins
Most Improved - Larry Casas
Comeback Competitor - Felipe Bascope
Young Lion - Jeremy Guilmette
Congrats to the winners!
2016 started off with a bang as El Nino clobbered the west coast. The Gathering of the Tribes was cancelled. We had epic waves however and soon we were in the midst of planning our version of "The Eddie". Every year this event is what we call "The Morgan". Mike Morgan was a member of our club who passed away too early and in his memory Chris "Sarge" Sardelis has created the Mike Morgan Wave of the Day Expression Session. This year it went off with Kyle McGeary winning. The event raised over $4000 for the Explorers for Life.
We spent Superbowl Weekend at the beach with the annual pier paddle on Saturday, February 6, 2016 and the Surf City Marathon Beer Garden Friday, satuday and Sunday. The Pier Paddle made the news when a 10 foot great white got "spooked" by Shane as he rounded the pier on his way to another victory. See the story in the OC Register along with the drone video of the event, including great white swimming away from Shane!
The 2016 Surf City Marathon's Beer Garden was a wild time from Friday morning until Sunday afternoon and that is all we can say about it here in this forum. There were some pictures floating around the internet that are very telling. The club made money for charity AND had fun!
On March 19, 2016 we held our 16th Annual Surf n Bowl in memory of Robin Hauser. The surfing was on the Northside/6th St and the bowling at Fountain Bowl.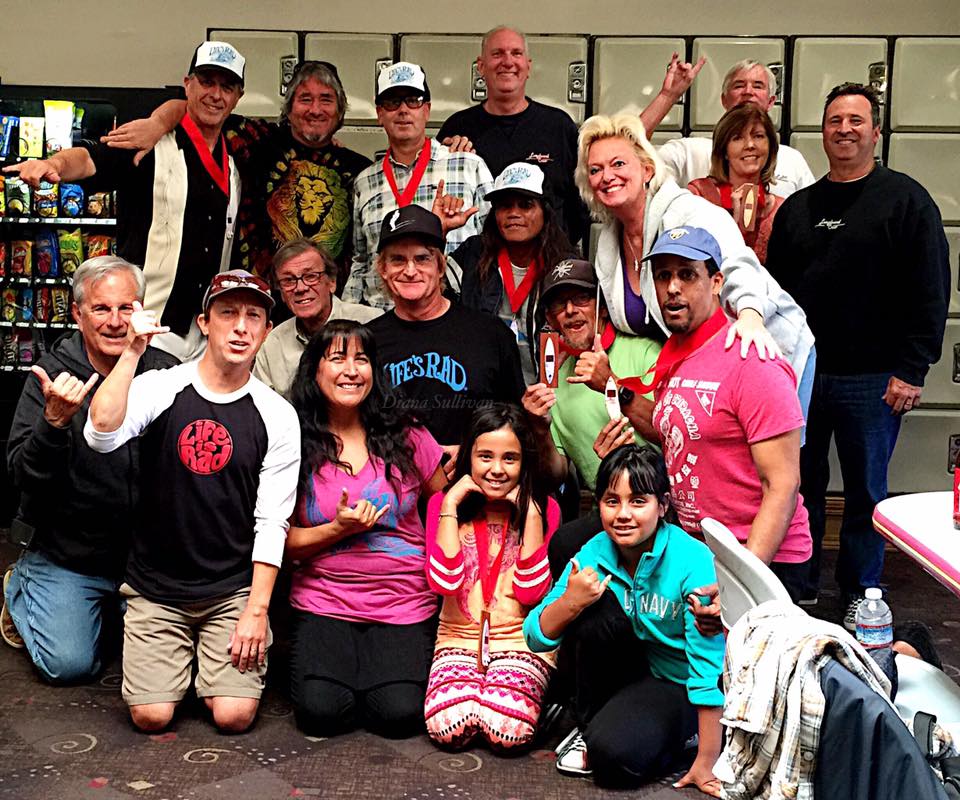 The Big Lebowski:
Sean Rathan
Open Men:
First Place Steve Hafke
Second Place Noel Terrado
Third Place Scott English
Fourth Place Gary Sahagen
Open Women:
First Place Joanne Zschomler
Groms:
First Place Ariana Rathan
The Big Pin Gabriela Rathan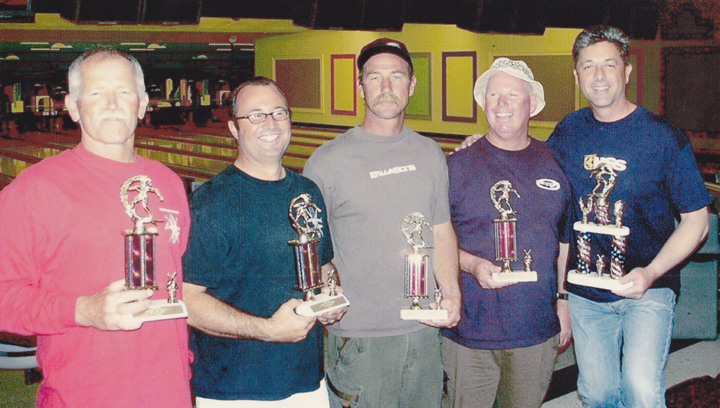 above is 2002 Surf and Bowl - Robin Hauser on far left - rest in peace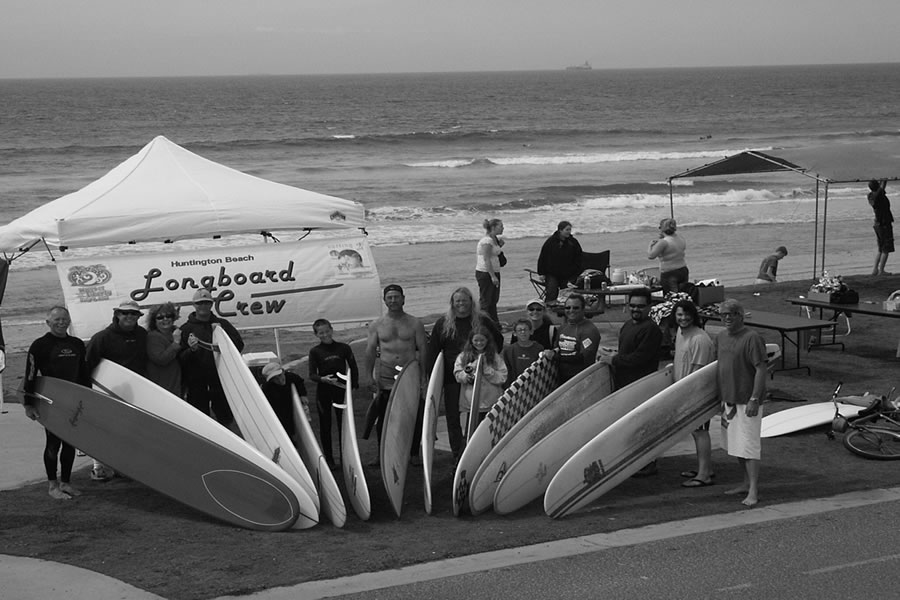 above is 2003 Surf and Bowl - Robin Hauser on far left - rest in peace
A big congratulations to our newest member, Ben Barns for his Big Sticks Surfing Association's Logjam 6th place finish at the Pleasure Point event in Santa Cruz on April 23-24, 2016. His one man surf team from Huntington Beach managed to put the HB surf club in tenth place overall in the first event of the Coalition of Surf Clubs' 2016 tournament tour. A total of eight events were held in the 2015 tour up and down the California coast. These events attract hundreds of surfers with sup, tandem, shortboard surfing, classical longboard surfing and team relay paddle races.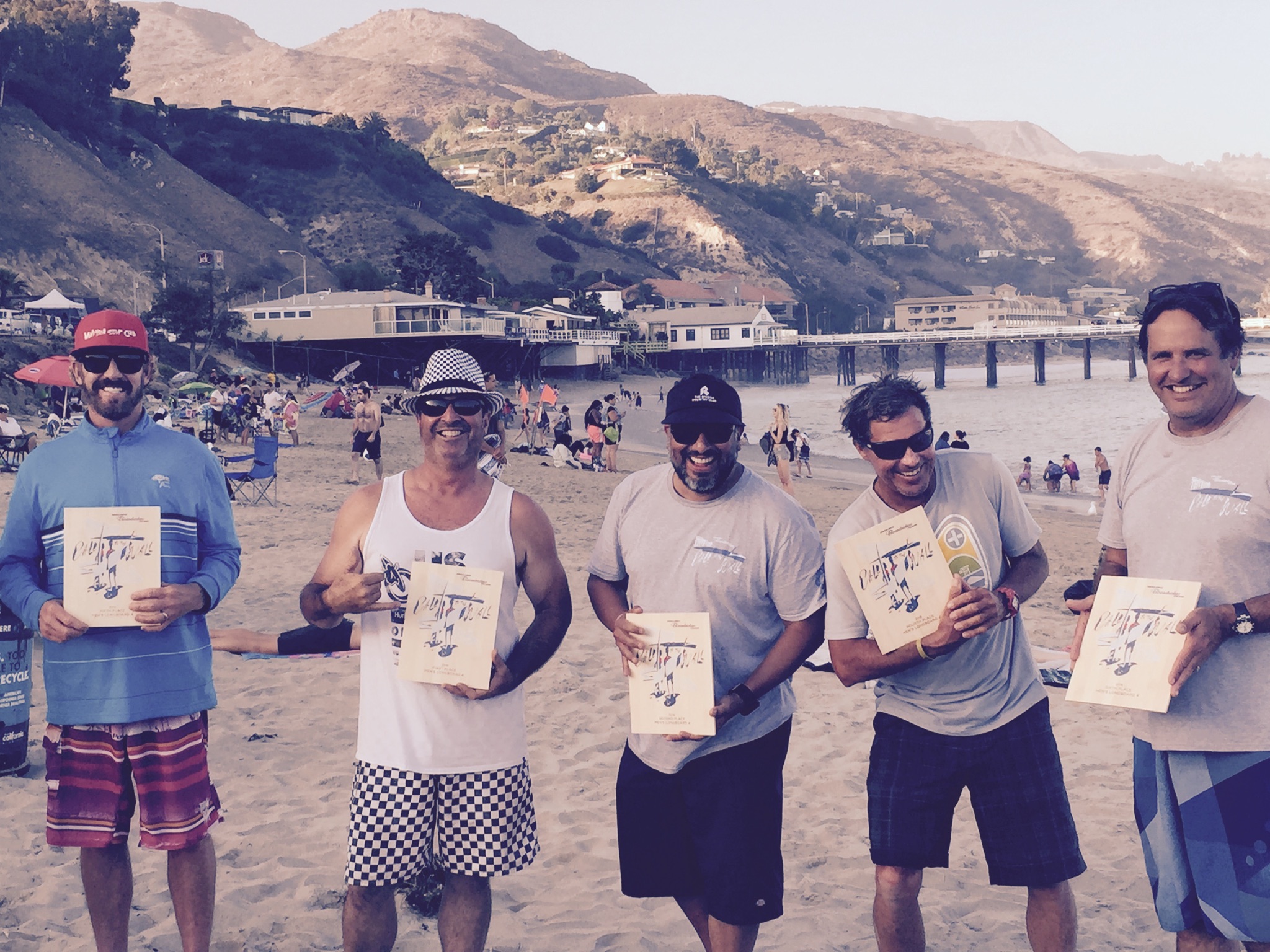 The Crew headed for Malibu a lot this year with several great south swells showing up early. The HB pier had size but the real quality was the BU! The annual Malibu Boardriders' Call to the Wall was held in highly contestable 3-5 foot surf. Bill Brewer took the win in his division of 36 surfers. Bill was in great form as he took out some notables such as Michael Gillard in the final heat. Great job Bill and way to represent! I have to personally thank Bill for grabbing Wendy's raffle prize while I was out grabbing some of the last waves of the day after the event. Other team members showing good results were Timothy with a ninth place and myself with a tenth place. Noel Terrado, Kris Kroo, Sean Rathan, Scott English and Ben Barnes rounded out the team which placed 16th out of the twenty teams present.
Oceanside Contest saw a small team head down with 17 other surf clubs from as far away as Carolina and Texas. The team finished 12th overall. Congrats to Zoe for finishing 5th overall in the Menehune girls division!! After four events the HBLC Surf Team is in 6th place overall.
The Malibu Surfing Association held the 2016 Classic at first point on September 10-11 in nice shoulder to overhead waves. The team finished 12th out of 23 teams entered. Tim as team captain and Terry, Gary and Bill rounding out our small team from HB. Gary made the finals coming in second with the rest of the team contributing enough points to keep us in the top ten for the coalition events for the year. (See above rankings after five events.)
The Doheny Longboard Surfing Association held the 2016 Gathering of the Tribes at Boneyards September 23-24 in clean waves. The team finished 14th out of 17 teams entered. Gary as team captain with Liam, Terry, Sean and Hans supporting our small team from HB. We slipped to 15th in the ratings after our finish here but we have three events left and can make a comeback.
The Swamis Surfing Association held their 22nd Annual Cardiff Reef Invitational, Return to the Reef. After fighting to get the reef for the venue the club won and pulled off one of the best events of the year. The Huntington Beach crew was a smaller team but we ended up finishing seventh out of 12 teams. Josh Mohr (Huntington Beach Club) and Joel Tudor (Windansea Club) battled all weekend with Josh winning the first round but Joel fighting his way back through the reparcharge heat to come back and win the final heat in a tight battle with Josh a close second. Scott English advanced to the semi-finals and Gary made the finals in Legends (fifth place) and Presidents' (first place) divisions. We are tied for 14th in the rankings with two events left.
For anyone who attended the HB 80's event at Goldenwest Street the day was epic! Mayor BL of the 17th Street Board Shop did a fantastic job with RB as contest director pulling it off without a hitch. Rockin Fig did the announcing with great finess. We had several members in the event and some advanced all the way to the finals. Noel with a third place and Gary with fifth place were the Senior Grom finalists from our club. Billy Hopkins (HBLC club member number 153) won the open event with Justin Hugron winning the Triple Crown of Retro Surfing. Justin is also a HBLC club member number 087.
The eighth coalition event was held at Tourmaline Surfing Park (a state park). The host clubs were Pacific Beach Surf Club and Cardiff Surf Club. Our team was only five but we managed a ninth place team finish out of the twelve clubs fielding a team for this event. Thanks to Felipe, Larry, Gary, Noel, Tim and Kathleen (official photographer) for supporting the HB Surf Team. Points from all participants with finalists Tim in sixth for grand masters, Noel in fifth for masters shortboard and Gary in first for legends. Gary also placed third for club presidents.
(See above for the club rankings after eight coalition events.)
The club members were in force on October 29, 2016 at the Huntington Beach Senior Surf Invitational to compete against any and all comers worldwide. The only qualification was age. Over 50 only please. Hugh Pierpoint traveled all the way from Australia to get a chance to take down some of the local talent. The day was full of fun surf and the weather was perfect.
first place went to
Terry Carmadella
The Surf Team ended the year at La Jolla Shores for the Windansea Coalition event. We had Scott and Kat representing HB and Scott single handedly beat the Swamis Surfing Association. Great job Scott! Our team ended the year with an equal thirteenth out of the nineteen clubs sending teams to four or more events. Our club sent a team to all nine tournaments as did MSA, PBSC and WNS.
2017 started off wet with a postponed Gathering of the Tribes event. The club focused on our 31st Annual Pier Paddle Race dedicated to Sophia Bartlow who came in second place in 2015 almost beating this years' five time champion, Shane Jones. No records were broken this year but Shane Jones won his fifth straight year as he finished a full two minutes ahead of second place!
Shane Jones 6'42"
Thomas Da Silva 8'53"
Steve Hafke 9'29"
Mark Pynchon 9'43"
Lee Graham 9'49"
Morghan Boozer 10'13"
Don Bigelow 11'47"
Noel Terrado 12'10"
The Gathering of the Tribes took place on April 1-2, 2017 at Church, Trestles. Oceanside surf team took first place followed by Windansea, Doheney, Long Beach, Huntington Beach in fifth and Pacific Beach in sixth. There were a total of 19 teams/clubs participating this year with great weather and surf in the 2 to 4 foot range throughout the weekend. Standouts were Mike Watson with a first place finish in the 50-59 division and Tim Reda who placed third in the 30-39 division. We had 23 surfers from HB represent this year with 14 advancing through to the second day. Thanks to all who participated and also the support crew who showed up to cheer us on.
A fun time was had with a capacity crowd for the sreening of "Forgotten Island of Santosha" at Mario's on April 19, 2017. New members received recognition and the talk story was epic as usual.
HB Cult Magazine hosted Locals Appreciation Day on April 29 had a fun pro-am surf contest at Goldenwest and PCH. The highlight was Sugar the surfing dog! Thank you for the great event!
We cancelled the Surf n Bowl. Next year we may change the surfing venue to avoid the pier crowds. Happy springtime to all! We did not send our team to Santa Cruz for the Logjam or the Steamer Lane Classic on Memorial Day weekend. Congrats to team Windansea Surf Club for sweeping the other clubs at both events up north! We are sorry to have to miss these events this year. The Malibu Boardriders' Call to the Wall had twenty teams with over 300 surfers this year. The HB Surf Team came in 11th with Long Beach edging us out by 10 points. The biggest challenge was keeping to under 6 waves. Most of us had problems keeping track as we are use to six waves. Regardless the team did very well with early wins by Kirra Kehoe, Drew Milton, Noel Terrado, Scott English, Gary Sahagen and Chris Kinner. If we had done the paddle race and came in last we would have passed Long Beach and Ventura. Thank you to all the team members including Ted Lancaster who made the valiant effort to surf against Steve Bigler in the final. Thanks to Bobby Friedman and Alexia who placed third in Tandem. Kristina Hehl came up to surf a shortboard heat taking out two San Diego Surfing Ladies members. Riley and Spencer Grant came up with their family for the weekend. Tim Reda had a heartbreak heat in the first round bu still gave us team points. Team points were contributed by all top two finishers in each division.
Oceanside was next as the OLSC held its 33rd Annual Surf Contest and Beach Festival with vendors, live music, raffles and a beer garden. Our HB Surf Team competed against 15 other clubs from California and one club from Texas! We barely beat the Texas club who ended up in 12th place, we got 11th. Our team was fairly small with Tim, Scott, Drew, Joseph, Gary, Riley, Spencer and Jovan Smith-Scott. We brought a videographer, Ray Allen from Ventura. Jovan and Gary Sahagen were the only finalists. Jovan placed 6th in 15-19 Jr Men and in the 60-69 division where Gary placed fifth (and a third place in the presidential heat). Thank you to all the team members who came down and contributed the points!
Thank you to all the team sponsors and donors who helped get us down to Oceanside and both Malibu events!
Malibu Surfing Association's Malibu Classic was on September 9-10, 2017. We had eleven surfers from Huntington Beach go. Kirra Kehoe made the finals in her division and got fifth overall. Tim Reda and Tim McCollum advanced. Our team did well finishing in the middle of the field of over 20 teams/clubs. Thank you to Eldon, Barry, James, Kenny, Christina, Pamela, Glenn, Priscilla, Lenny, Bob and Lee who stepped up and really helped our younger surf team members get to the meets with almost $300 raised by these generous members. A note from Jovan: "So stoked to be a part of the Huntington Beach Longboard Crew and thank you so much to anyone who donated, it really means the world to me and my family. It's really an honor getting to surf with such rad people. Thank you"
The team went to Oceanside and Tourmaline to end out the summer season of touring the California coast. Our finishes in both events was about the middle of the pack of twenty plus teams and clubs from up and down the coast. Stand outs at these events on the HB team were Tim, Amy, Gary, Spencer and Jovan. Join up to get in on the action for Spring and summer 2018. There are a couple more events that we are invited to at Cardiff Reef and La Jolla Shores. Individuals are encouraged to represent and go to these events if at all possible.
We had a fun gathering at Glowzone for October with a compilmentary dinner and comedy show. All who attended had a great time. Thank you to Leslie at Glowzone for showing us this fun new place on Gothard and Edinger in Huntington Beach. The Cosmic Bowling, miniature golf, American Ninja Obstacle Course, Laser Tag and more games were all so awesome. Back to Mario's for November but we may be heading back to Glowzone for December, stay tuned for updates.
The HB Surf Team had two members attend the Return to the Reef event hosted by the Swamis Surfing Association. Larry and Howard went to represent Huntington Beach. Howard advanced in his first heat as a HB Surf Team member getting a second place finish. This and Larry's performance were good enough to propel our HB Surf Team into eleventh place beating the Malibu Boardriders' Surf Team who placed twelfth.
The last Coalition of Surf Clubs event for 2017 at La Jolla Shores was held on November 18-19. Our team consisted of Jovan, River (his first coalition event), Timmy and HK(as team captain). This was one of our best showings for the year as Jovan got first, Timmy got second and River got third in their respective divisions. With acting Team Captain, HK getting an equal 10th we had our team finish tied for sixth out of 14 teams. Windansea Surf Club won the event. The HB Surf Team finished the year with a respectable 11th place out of over 30 surf teams/surf clubs in 2017.
End of Archived Club Notes
---
Huntington Beach Longboard Crew Hall of Fame
The Longboard Crew Club members are all ages and abilities.
Joey Hawkins, Josh Mohr, Danny Nichols, John Taylor, Matt Taylor, David Nuuhiwa, Jay Boldt, Chuck Linnen, Bobby Neishi, Ralph Yeramian,
Al Miller, Kelly Kraushaar, Bill and Billy Hopkins, Mike Minchinton, Kim Hamrock, Acey Aseltine, Eva Lewington, Shannon Gibson, Margeaux Hamrock, Bob "Da Greek" Bolen, Mickie Rat Ester, Ronnie Hawkins,
Gary "Seahag" Sahagen, Trevor Waring, Nick Lopez, John Edwards, Kyle Harvel, Eddie Enriquez, Dave Carlos, Bill Brewer, Les Potts, Albert Jenks, Mike Erspalmer, Scotty Lyon, Frank Cochran, Ricardo Valdez,
George Lambert, Allen Lambert, Bret Zschomler, Bart Zschomler, Tom Knight, Matt Schaefer, Ace Aseltine, Chris Olivas, Paula Ontkean, Jonathon Shelton, Wally Walczyk, Kevin Kirby, Raoul Jimenez, Eldon Smith, The Flynn Clan (Jack, Jim, Chris, Scotty and Rick), Angela Madsen and Bruce Gabrielson have all graced the ranks of the Huntington Beach Longboard Crew Hall of Fame.