Huntington Beach Surf Club est. 1985


Huntington Beach Longboard Crew


Promote Your Page Too
Calendar of Events and Gatherings
---
December 10, 2014: Monthly Mario's Gathering
Come join us for some Holiday Cheer at Mario's Mexican Restaurant. We will have the festivities started by 6pm in the back banquet room with a no host bar and food specials as usual. A holiday give away will make this one gathering you will not want to miss.
---
December 19, 2014: Morgan Wave of the Day Fundraiser
1025 Pacific Coast Hwy
Seal Beach, CA 90740
7pm til all the swag is gone
---
email the crew: info@hblongboardcrew.org
---
Our 2015 HB Surf Team needs your support:
Roster for January 10-11, 2015 at Trestles is Jeremy G., Quinten H., Andrew E., Jon S., Shaun G., Shane S., Asa D., Kelly K., Rocky M., Mark S., Todd M., Thorsten H., Sean R., Dwayne L., Larry C., Tim M., Noel T., Felipe B., Scott E., Duncan M., Kris K., Lee S., Gary S., John W., Terry C., Ted L., Michael T., Roy C., Chuck L., Zoe C., Maddie C., Ann E., Jennifer M., Stephanie D., Jennifer P., Suzie E., Deborah J., Mike H., Aaron and Leslie L.
These 40 surfers pay their own way to these surf meets. To assist with some of these costs we need your help. The HBLC would like to provide more support for the HB Surf Team in 2015.
2014 COALITION OF SURF CLUBS

Place

Top Four

GOTT

Logjam

SCLU

CTTW

OLSC

MSA

WSC

SSA

Tourmaline

top three

total

weighted
average

Windansea Surf Club

WSC

1

4

16

1

2

3

11

1

1

1

3

3

4.3

2

Oceanside LB Surfing Club

OLSC

2

5

1

6

5

4

1

2

8

2

1

3

3.3

1

Malibu Surfing Association

MSA

3

11

4

2

4

2

5

3

5

10

11

7

5.1

3

Long Beach Surf Club

LBSC

4

14

3

-

11

2

9

-

5

4

9

5.7

5

Pacific Beach Surf Club

PBSC

5T

15

6

-

9

8

3

5

2

6

5

10

5.5

4

Doheny LB Surfing Assoc

DLSA

5T

15

2

-

11

9

4

-

-

3

6

9

5.8

6

Swamis Surfing Assoc

SSA

7

21

11

7

14

14

6

-

4

4

-

14

8.6

12

Cardiff Surf Club

CSC

8

22

10

-

10

7

-

-

6

7

2

15

7.0

8

Malibu Boardriders Club

MBC

9

23

15

-

-

1

13

4

10

8

12

13

9.0

13

Big Stick Surfing Assoc

BSSA

10

24

8

3

6

12

-

7

-

15

-

16

8.5

11

Coronado LB Surfing Ass

CLSA

11

29

9

-

-

-

10

-

3

11

7

19

8.0

10

Pedro Point Surf Club

PPSC

12

31

-

4

3

15

9

-

-

-

-

16

7.8

9

HB Longboard Crew

HBLC

13T

33

5

-

13

10

8

-

-

12

10

23

9.7

15

Ventura Surf Club

VSC

13T

33

14

-

7

5

12

9

-

14

-

21

10.2

16

Sunset Cliffs Surfing Assoc

SCSA

13T

33

12

-

-

6

7

-

-

13

8

21

9.2

14

La Jolla Shores Surf Ass

LJSSA

16

34

7

-

12

16

14

-

9

9

9

25

10.9

18

Santa Barbara Surf Club

SBSC

17

36

13

-

8

17

-

8

7

-

-

23

10.6

17

Santa Cruz LB Union

SCLU

-

-

-

5

1

13

-

-

-

-

-

19

6.3

7
---
Most Recent CSC Scoring Guidelines:
1) To be included in Coalition of Surf Clubs Team Scoring a team must participate in a minimum of four (4) Coalition Sanctioned Events for 2014. 2) The four top placements for each team are added to make up a composite score for each team. 3) Team ranking is ordered based on low to high composite score, where the lowest score is awarded first place, the next highest score is awarded second place and so on. Only Coalition accepted clubs/teams are eligible. 4) A blank score for any team for any event indicates that team did not field a team for that event. 5) There is no trophy or cup for top teams at this time.

Upcoming HB Surf Team Events:
---
The Longboard Crew's goal is to have fun while generating funds and services for worthy causes.
Member's ages range under 10 to over 75 years old.
Our members are well traveled and take excursions to remote areas of the world. When we get together as a group it's usually in Surf City.
email the crew: info@hblongboardcrew.org
The HBLC Surf Club hosts events, monthly meetings and gatherings, a surf team for charitable fundraising events and other fun social events benefitting the members and our causes. The membership fee is $40.00 per year for the family! You get a cool membership certificate suitable for framing, a club t-shirt, stickers and a whole lot of new friends (or $25 for a family membership without t-shirt). In order to join, renew or simply donate to the Crew click the donate button below and we will send you an acknowledgement by mail. Please add a shipping fee if you want any shirts sent in the mail.
email the crew: info@hblongboardcrew.org
---
Welcome to all of our members for 2014.
To join the club you can click on any Donate Button
(
) or come to our next Mario's gathering (second Wed of each month) or send a regular letter or pick up an application or
email the crew: info@hblongboardcrew.org
That's five different ways to join.
The Huntington Beach Longboard Crew is a registered and
approved 501(c)3 California Corporation.
Our Mission Statement:
Represent surfers as contributors to the community,
support our surfing culture and
educate others about our water world.
---
2014 Directors:
Gary Sahagen - Chairman
Tim McCollum - Treasurer
Kathleen McCollum - Secretary
Tony Jones - Director
Al Schuyler - Director
Diana Sullivan - Director
Rick Ischinger - Director
The board meets monthly. A quorum of five
of the above is required for a board of directors meeting.
To send us snail mail:
HBLC
9121 Atlanta Avenue Suite 623
Huntington Beach, California 92646
---
A Not So Recent Event:
Click photo below to see other 1930's pics
Thank you Marilyn at Mario's for the cool pics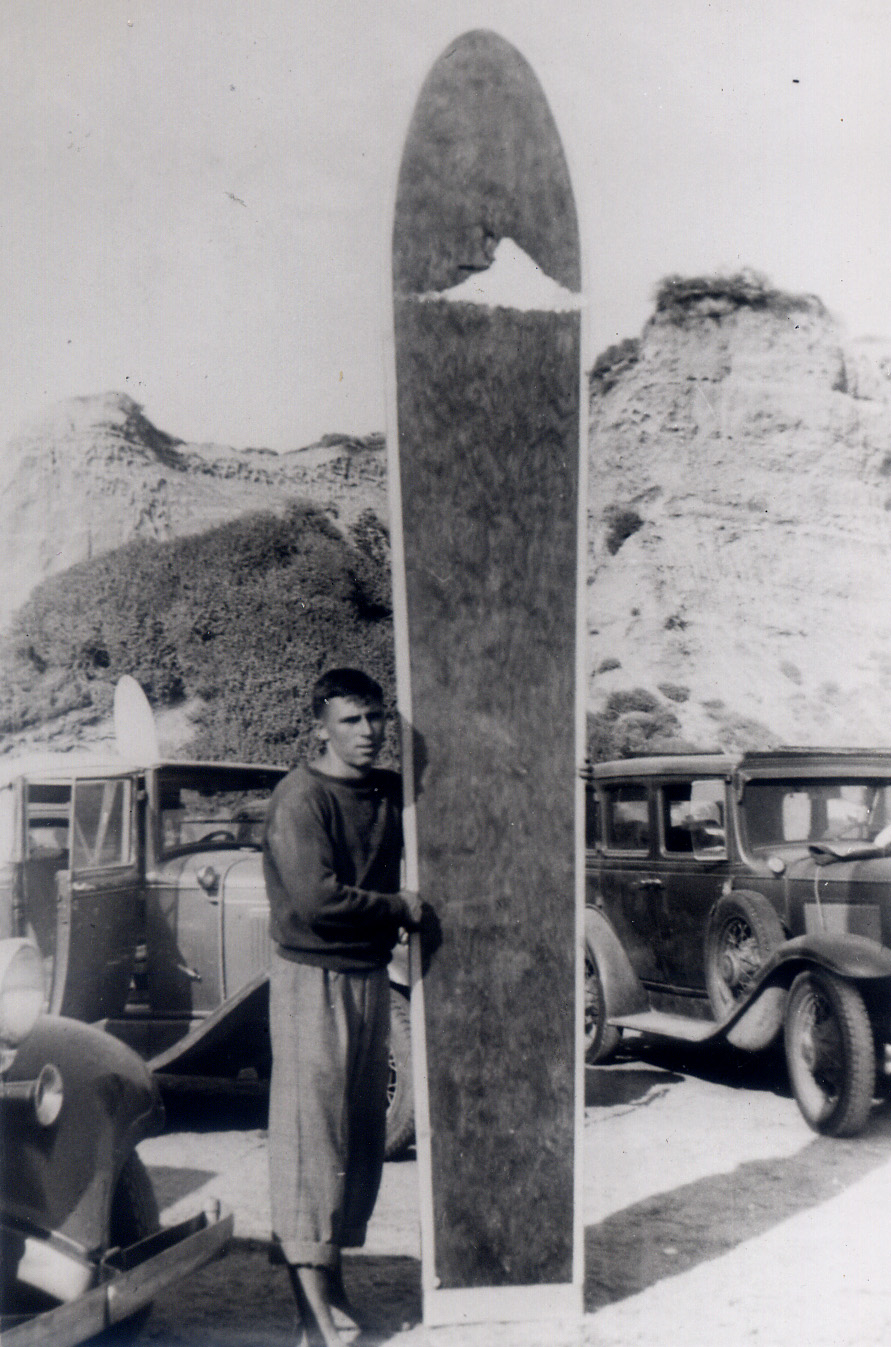 ---
HBLC Surf Club Notes:
click here for archived notes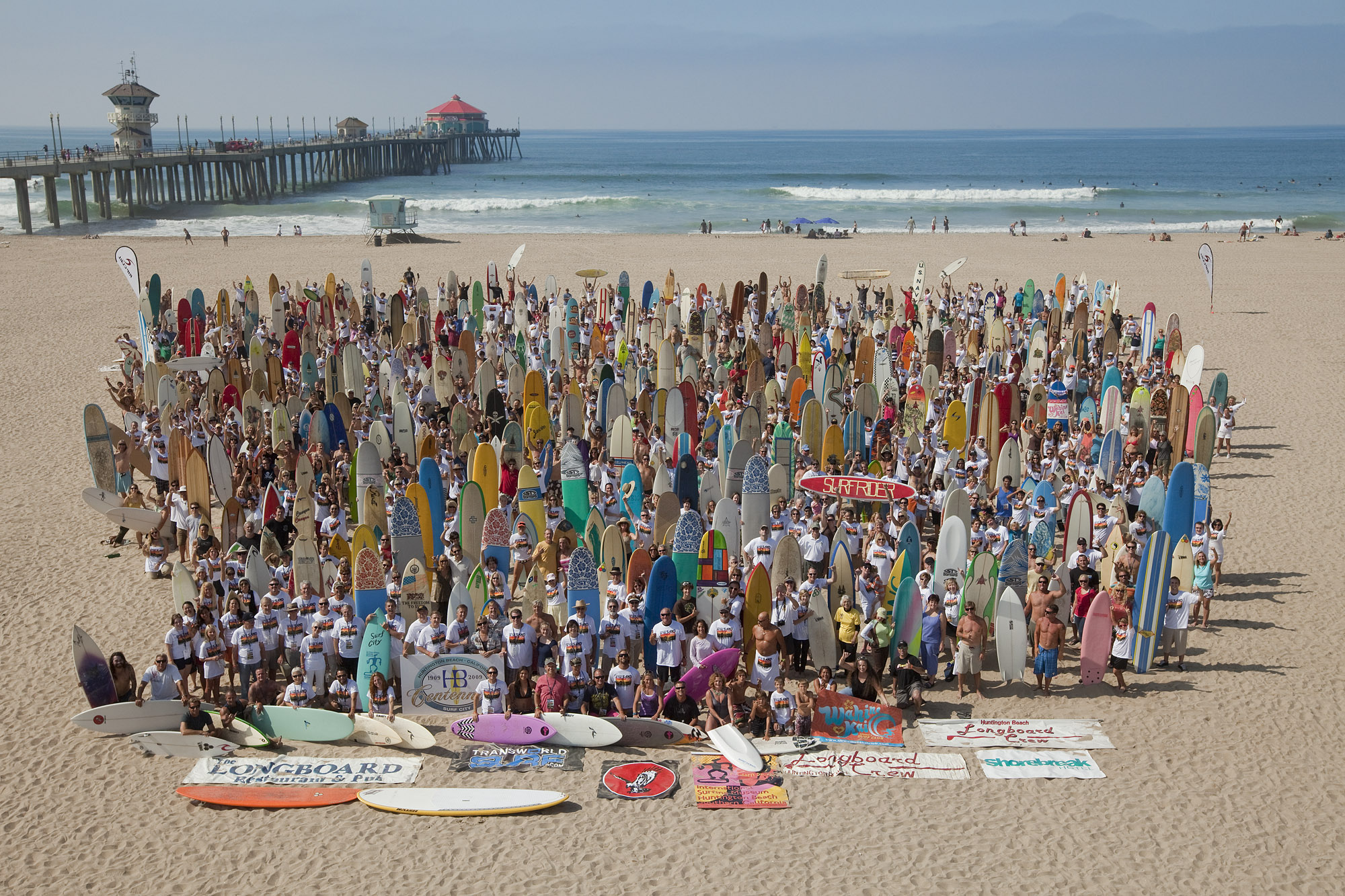 Surfboards in the Sand
In December of 2013 there was a great Mario's gathering with lots of swag to go around. We celebrated a successful year with a vote for member annual awards which were presented at the January gathering. The HBLC Surf Club award winners for 2013 are Robin Bewsee for Comeback Competitor, Maddie Camargo for Young Lioness, Zoe Camargo for Most Improved and Gary Sahagen for the Annual Perpetual Award Plaque. A canned food drive went to Share Our Selves. Thanks to your generous donations we delivered a van full to them! The Crew attended the Colette's Childrens' Home fundraiser where the we were able to participate in raising a million dollars for this great Huntington Beach based charity.
On the 21st of December the Morgan Wave of the Day fundraiser generated a nice donation for the Fireman's Fund. Thank you Chris Sardelis and all the sponsors who gave generously.
2014 started off right with a strong showing for the HBLC Surf Team at the Gathering of the Tribes event at Chuch Point, Trestles, San Onofre. 18 surf clubs from all over California sent surf teams consisting of age categories from 14 and under to Extreme Legends 70 plus years young. Our Extreme Legend was 77 year old Chuck Linnen who placed third. All types of surfboards were utilized to compete against such as Stand Up Paddle (SUP), fishes, thrusters, quads, classical single fins and some high performance hybrids. Being a point break there were some long rides with a lot of tricks and crash landings, some right on the sand! In fact, there were several surfers who sacrificed their bodies to try for a few extra points for the team. Sean and Noel left the beach with bloody wounds. Noel ended up 2nd in the shortboard division!
Thanks to the strongest HBLC Surf Team we have sent from Huntington Beach in a number of years, we finished 4th overall. Finalists besides Noel and Chuck included Bill (two finals), John (two finals), Gary (two finals), Quinten (two finals), Terry and Maddie! Our supporting cast included Kelly, Todd, Sean, Larry, Shaun, Zoe, Stephanie, Deborah, Scott, Andrew, Tim, Ted, Duncan, Asa and Thorsten! Kathleen, Wendy, Diana, Chuy, Michael, Don M, Don B, Steve and Karl rounded out the crew from HB. Thanks to all the club members who attended this event. We could not have done so well without your help.
On February 2, 2014 (Superbowl Sunday) the HB crew manned the Surf City Marathon's Beer Garden from 9am - 2pm. Over 20,000 runners were entitled to two beers (over 21 of course) after they finished the race. Thank you to all the volunteers! All went smoothly and as always we have impressed. Thanks to Kathy Kinane, Amy, Celeste and Diana of the Surf City Marathon. This was the HB Longboard Crew's seventh year running the Surf City Marathon's Beer Garden!
The longest standing paddle race around the Huntington Beach Pier has got to be the Longboard Crew's Annual Pier Paddle. The history of this race goes all the way back to when the first race was held on November 15, 1986. The race was one of the crew's first events followed by a surf contest on December 19, 1986 at the pier. The third big event was a trip to Quatro Casas in January of 1987. The Pier Paddle has been a long standing tradition and is a hallmark from a time when surfing contests were simply paddle races around buoys that ended with a race to the shore. Even into the 1960's, there were paddle races as part of the US Surfing Championships at the pier. Our 28th Annual Pier Paddle was held February 16, 2014. The final results were:
1st Place: Shane Jones at 6 min 22 sec
2nd Place: Tim McCollum at 7 min 37 sec
3rd Place: Noel Terrado at 8 min 22 sec
4th Place: Thomas Da Silva at 9 min 14 sec
5th Place: Steve Hafke at 10 min 38 sec
6th Place: Glenn Young at 11 min 13 sec
On March 22, 2014 we attended the Rincon Invitational. The surf team consisted of Tim, Bill B., Don B., CJ, Scott, Andrew, Quinton, Jeremy, John G., Gary, Sean, Hans, Todd, John W., Christian and our support team on the beach: Myra, Kathleen, Irena and various canines!
Great job getting second place behind Malibu Surfing Association!
The Crew hosted the 14th Annual Robin Hauser Surf n Bowl on April 12, 2014. The surf was contestable 1-3 foot at Sixth Street. Mike Stone won the surfing with the highest points for his six waves. The bowling was dominated by Steve Haffke with a 215 bowling score to take first place overall. Mike came insecond with Bill Brewer and Tim McCollum taking 3rd and 4th. The top females were Stephanie Dufour for Women and Maddie Camargo for the Grom division. Zoe Dufour took the "I sucked at Bowling" award. Thanks to all the participants for a fun time!
The Crew hosted the 2014 US Deaf Open of Surfing on June 21-22 in Huntington Beach. Surfers from all over the world came to compete for the World Deaf Surfing Title. Darcy De Lao was the reigning champ but in a heated final Kieran Grant was crowned the new world champ!
The Surf Team headed up to Malibu July 19-20, 2014 for the 23rd Annual Malibu Boardriders' Call to the Wall. Twenty surf teams showed up to compete at Da Bu. Thank you to all the team riders who went to represent HB!! Congrats to Maddie Camargo for her first place finish in Women's Shortboard!! Other members who performed at the Bu in 1-3 foot fun surf were team captain Tim, Terry, Todd, Ted, Bill, Ron, John, Mark, Kathleen, Stephanie, Zoe, Leslie, Aaron and Noel! A good time was had by all!
In August the surf team headed to Oceanside for the 30th Annual Longboard Contest hosted by the Oceanside Longboard Surfing Club. This is always one of our favorite events because of the legends and pros who are there for the Guy Takayama Pro Longboard events. PT, Nuuhiwa, LJ Richards, Jericho and Guy put on an exhibition heat. Our surf team from HB did well with most everyone advancing to Sunday. Mark Stewart stood out with a first place in his division and he also won some money surfing the pro division which probably paid for his weekend, at least. Gary made it to the finals for a second place but got dinged for standing up after the horn which demoted him to sixth place. Our team placed ninth out of sixteen teams/clubs. Thank you to all the team surfers and supporters who came down including Tim, Sean, Shaun, Steve, Kathleen, Mark, Gary, John, Felipe, Pilar, Larry, Lee, Ron, Duncan, Quinten and Thorsten.
The 2015 fiscal year started on September 1, 2014 for the Huntington Beach Longboard Crew. The 2015 fiscal year board of directors are seated and confirmed as of September 1, 2014.
September saw the crew members host a lunch for the HB City Surf Contest contestants on Saturday. We asked that the contestants pack their trash and take some of the small plastic and butts with them. Our club members did fairly well on Saturday. On Sunday there was a significant change in the judging criteria and classic surfing was deemed null and void according to the announcer (who was not there on Saturday). Despite the bias toward "butt wiggling" we saw several classic surfboards do well in the older divisions ranks. Hopefully this was an aberation and the judging will return to the way it is supposed to be, fair and unbiased.
The crew held a beach clean up for National Beach Clean Up Day on September 20, 2014 on the South Side. Thank you for all the members who helped with this important chore.
There were a few members who participated in the Dale Velzy Classic and Luau on September 27, 2014. John Willson, Tim McCollum both made the finals! Congrats!
October 18-19, 2014 we fielded a small team to the Swami's Surfing Association's 20th Annual Return to the Reef Invitational. Our three man team managed to have all advancing through round one. The standout was John Willson who finished second in his age division overall.
The senior olympics held October 25, 2014 on the HB pier southside had many club members participating. Duncan McClane won first place in his age division. Roy Crump, Bob Delmer and John Willson were other club members that made the finals.
The last surf club event for 2014 was held on November 1-2 at Tourmaline Beach Park. We had a small team and got 10th Place out of the 12 teams. Standouts were Ralph, Todd, Felipe, Duncan and John who advanced to Sunday's finals. Thank you to Noel, Kathleen, Suzie, Tim and the other supporters who traveled all the way to La Jolla. The next event is coming up in January 10-11, 2015 for the DLSA's Gathering of the Tribes at Church Point.
end of club notes
email the crew: info@hblongboardcrew.org
---
In Loving Memory
---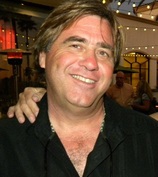 Northside local and good friend
---
Early Huntington Beach Surf Clubs have a long history.
Pictured below are some of the earlier tribe members from the Hole in the Wall Gang
The 2011 Surfing Walk of Fame Honor Roll Inductees! There were 38 names listed for the HITWG induction ceremony. Four of these 38 inductees are Huntington Beach Longboard Crew surf team members: John Taylor, Morghan Boozer, George Lambert Jr. and Duncan McClane.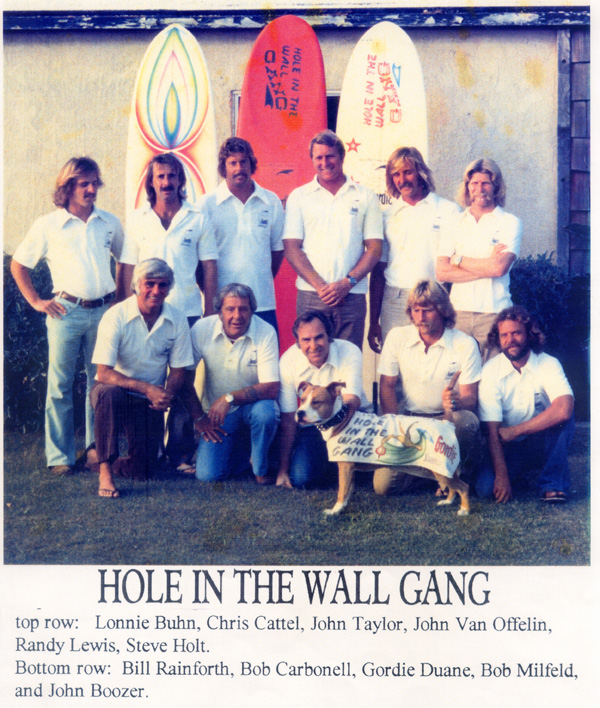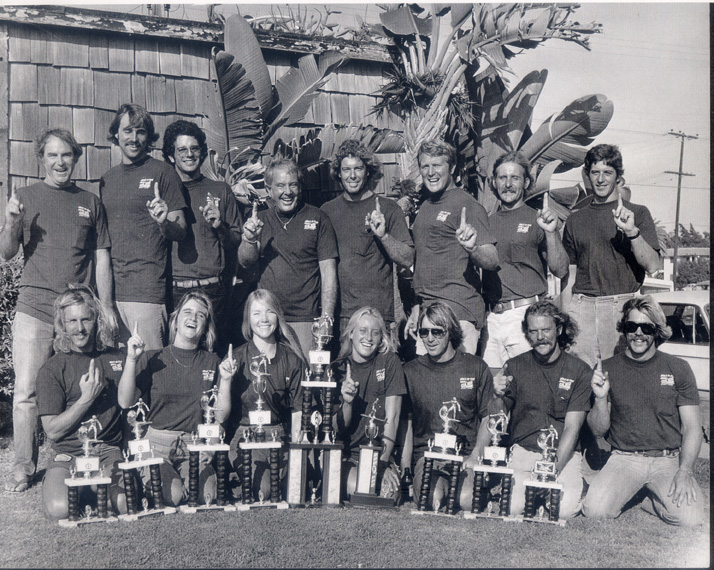 Hole in the Wall Surf Team-Number One in the 1970's
Top Row 3rd from left is Duncan McClane, 5th is John Taylor - Morghan Boozer is kneeling 2nd from left and Mr Pipeline was her husband, John Boozer who is 2nd from right kneeling.
---
Please Support:

---
Please Support:

---
Please Support:
---
Please Support:
---
This has helped our members and is worth a look: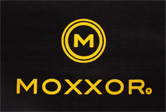 ---
Thank you to all our generous sponsors including:
Marios Restaurant
Sugar Shack
Zack's
Bobby Zee Images
Coral Reef Wetsuits
John Lyman Photos
Jack's Surfboards
Olas Mex Grill
email the crew: info@hblongboardcrew.org
---
Custom Search