click on the photo above for an article about local surf clubs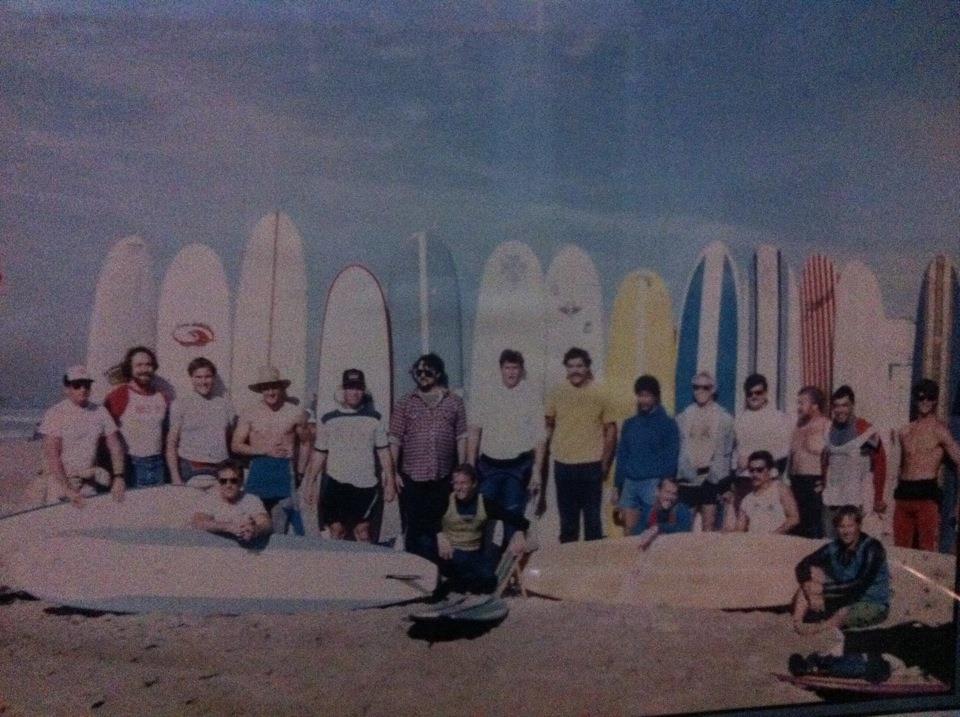 This picture is the first HBLC contest in 1985.

Surf Club ©
Est. October 17, 1985
---
2017 Calendar of Events
July 12, 2017: Free surf flick and a talk story in the Mario's banquet room.
---
June 17, 2017: 17th Annual Robin Hauser Surf n Bowl
Cancelled
---
In 2016, nineteen clubs sent their surf teams to CSC sanctioned events. Four of those clubs sent a team to every event! Huntington was one of those four. First event for 2017 was at Church, Trestles. Nineteen surf clubs attended the DLSA hosted event. The 2017 club rankings after the first event are:
TOP FIVE SURF CLUBS
Oceanside
Windansea
Doheny
Long Beach
Huntington Beach
The 2017 club rankings are getting complicated as several clubs have "split" into two teams it appears. Windansea, Big Sticks Surfing Association, Pedro Point Surf Club and Hope Ranch Surf Club all have two teams. This occurred at the Logjam and may just be a one off occurrence.
July 22-23, 2017: Malibu Call to the Wall - HB Surf Team roster submitted to Malibu Boardriders
---
---
Our goal is to have fun while generating resources for worthy causes.
Member's ages range under 10 to over 75 years old.
Our members are well traveled and take excursions to remote areas of the world. When we get together as a group it's usually for fun around town.
email the crew: info@hblongboardcrew.org
Club and Surf Team merchandise can be picked up at our monthly gatherings or on our E-Bay.
Check out our items such as stickers, patches, shirts, hats and club jackets.
email the crew: info@hblongboardcrew.org
---
Welcome to all of our new and returning members.
XX17 = Member in good standing
The HBLC Surf Club hosts monthly gatherings, a Surf Team and events throughout the year. The membership fee is $25.00 per year for the family! In order to join or renew your membership click the DONATE button below and we will send you an acknowledgement by e-mail. Another way to join is at our monthly gathering at Mario's Mexican Restaurant.
The Huntington Beach Longboard Crew is a registered and
approved 501(c)3 California Corporation.
---
To send us snail mail:
HBLC
9121 Atlanta Avenue Suite 623
Huntington Beach, California 92646
email the crew: info@hblongboardcrew.org
---
HB Surf Club and HB Surf Team:
2017 started off wet with a postponed Gathering of the Tribes event. The club focused on our 31st Annual Pier Paddle Race dedicated to Sophia Bartlow who came in second place in 2015 almost beating this years' five time champion, Shane Jones. No records were broken this year but Shane Jones won his fifth straight year as he finished a full two minutes ahead of second place!
Shane Jones 6'42"
Thomas Da Silva 8'53"
Steve Hafke 9'29"
Mark Pynchon 9'43"
Lee Graham 9'49"
Morghan Boozer 10'13"
Don Bigelow 11'47"
Noel Terrado 12'10"
The Gathering of the Tribes took place on April 1-2, 2017 at Church, Trestles. Oceanside surf team took first place followed by Windansea, Doheney, Long Beach, Huntington Beach in fifth and Pacific Beach in sixth. There were a total of 19 teams/clubs participating this year with great weather and surf in the 2 to 4 foot range throughout the weekend. Standouts were Mike Watson with a first place finish in the 50-59 division and Tim Reda who placed third in the 30-39 division. We had 23 surfers from HB represent this year with 14 advancing through to the second day. Thanks to all who participated and also the support crew who showed up to cheer us on.
A fun time was had with a capacity crowd for the sreening of "Forgotten Island of Santosha" at Mario's on April 19, 2017. New members received recognition and the talk story was epic as usual.
HB Cult Magazine hosted Locals Appreciation Day on April 29 had a fun pro-am surf contest at Goldenwest and PCH. The highlight was Sugar the surfing dog! Thank you for the great event!
We cancelled the Surf n Bowl. Next year we may change the surfing venue to avoid the pier crowds. Happy springtime to all! We did not send our team to Santa Cruz for the Logjam or the Steamer Lane Classic on Memorial Day weekend. We are sorry to have to miss these events this year. We are setting up for a good showing for the Malibu Boardriders' Call to the Wall in July. So far we have over 18 surfers on the roster.
---
Custom Search
©2017 Huntington Beach Longboard Crew• All Rights Reserved