The Huntington Beach Surf Club since 1985

Huntington Beach Longboard Crew


Promote Your Page Too
---
2013 - 2014 HB Surf Club Calendar
---
December 11, 2013: Monthly Gathering and Awards
a free surf movie at 6:00 pm followed by the world famous Talk Story in the banquet room of
Mario's Mexican Restaurant
18603 Main St, Huntington Beach, CA 92648
(714) 842-5811
Corner of Main/Ellis and Beach Blvd
December 21, 2013: Morgan Wave of the Day Fundraiser at Coach's Sport Bar in Seal Beach starts at 6pm
January 4-5, 2014: Gathering of the Tribes at Trestles is a Surf Team event(join the team)
January 8, 2014: Monthly Gathering in HB
February 1-2, 2014: HBLC Pier Paddle Race & Surf City Marathon Beer Garden(join to volunteer)
February 12, 2014: Monthly Gathering in HB
February 14, 2014: HBLC Valentine's Day Dinner Dance at TBD(join the committee)
March 12, 2014: Monthly Gathering in HB
March 22-23, 2014: Rincon Invitational for a HB Surf Team event(join the team)
April 9, 2014: Monthly Gathering in HB
April 19, 2014: 14th Annual Robin Hauser Surf n Bowl at Northside & Fountain Bowl(join the club)
April 26-27, 2014: 14th Annual Big Sticks' Surf Club Logjam! at Pleasure Point(join the team)
May 14, 2014: Monthly Gathering in HB
May 24-25, 2014: 30th Annual Memorial Day Invitational Surf Contest at Steamer Lane(join the team)
June 11, 2014: Monthly Gathering in HB
June 20-22, 2014: US Deaf Open of Surfing at 9th Street
June 20, 2014: George Freeth Day at the HB pier(unofficially)
June 21, 2014: International Surfing Day(officially)
July 9, 2014: Monthly Gathering in HB
best guess for July 12-13, 2014: Call to the Wall at Malibu is a Surf Team event(join the team)
best guess for August 9-10, 2014: Oceanside 30th Annual Club Contest is a Surf Team event(join the team)
August 13, 2014: Annual Board Election in HB
best guess for September 5-7, 2014: Malibu Classic Club Contest is a Surf Team event(join the team)
September 10, 2014: Monthly Gathering in HB
October 8, 2014: Monthly Gathering in HB
November 12, 2014: Monthly Gathering in HB
December 10, 2014: Monthly Gathering in HB
Join now!
---
Upcoming Coalition of Surf Clubs (CSC) Events:
| | |
| --- | --- |
| Date | Event |
| Jan 4-5, 2014 | The Gathering of the Tribes at Church Point hosted by DLSA |
| Apr 26-27 | 14th Annual Logjam! at Pleasure Point host by Big Sticks |
HBLC 2014 Team Roster:
Boys 14 and Under
Kyle Maddox
Junior Men 15 - 19
Quinten Hegberg
Jeremy Guilmette
Men 20 - 29
Jon Shelton
Asa Dufour
Shaun Gonsales
Senior Men 30 - 39
Kelly Kraushaar
Mark Stewart
Rocky McKinnon
Masters Men 40 - 49
Thorsten Hegberg
Thomas Da Silva
Sean Rathan
Larry Casas
Grand Masters Men 50 - 59
Tim McCollum
Gary Sahagen
Bill Brewer
Noel Terrado
Legends Men 60 - 69
John Willson
Ted Lancaster
Ron Pendleton
Extreme Legends 70 and Up
Chuck Linnen
Girls 14 and Under
Maddie Camargo
Zoe Camargo
Junior Women 15 - 25
Women 26 - 35
Amber
Masters Women 36 - 49
Stephanie Dufour
Grand Master Women 50 & Up
Morghan Boozer
Men Shortboard 49 & Under
Mark Stewart
Kelly Kraushaar
Mike Huseman
Quinten Hegberg
Master Men Shortboard 50 & Up
John Willson
Noel Terrado
Women Shortboard 39 & Under
Maddie Camargo
Women Shortboard 40 & Up
Stephanie Dufour
Current Club Presidents
Gary Sahagen
StandUp Paddle
1. Rocky McKinnon
2. Duncan McClane
Tandem
Leslie Lundquist and Aaron Lundquist
---
The Longboard Crew's goal is to have fun while generating funds and providing services for worthy causes such as:
Colette's Children's Home is one of our selections for our 2013-2014 causes to support. Celebrating 15 years of healing homelessness.
Also selected is Morgan's Wave of the Day Expression Session Fundraiser. This is our third year and the event raises funds each year for a local charitable cause. This year the proceeds go to Kevin Woyjeck Memorial Fund.
Member's ages range under 10 to over 75 years old.
Our members are well traveled and take excursions to remote areas of the world. When we get together it's normally just for fun in Surf City.
The club hosts tournaments, monthly meetings,
an amateur surf team for CSC events and other fun social events for its members. The membership fee is $40.00 per year for the family! You get a cool membership certificate suitable for framing, a club t-shirt, stickers and a whole lot of new friends (or $25 for an individual membership without t-shirt). In order to join, renew or simply donate to the Crew click the donate button below and we will send you an acknowledgement and your merchandise by mail.
---
Welcome to all of our new and renewing members for 2013-2014.
To join the HBLBC Team
come to our next meeting or send an email to info@hblongboardcrew.org
The Huntington Beach Longboard Crew is a registered and
approved 501(c)3 California Corporation.
Our Mission Statement:
Represent surfers as contributors to the community,
support our surfing culture and
educate others about our water world.
---
2013 - 2014 Directors:
Gary Sahagen - Chairman
Tim McCollum - Treasurer
Kathleen McCollum - Secretary
Tony Jones - Director
Al Schuyler - Director
Thomas Da Silva - Director
Rick Ischinger - Director
The board meets monthly. A quorum of five
of the above is required for a board of directors meeting.
To send us snail mail:
HBLBC
9121 Atlanta Avenue Suite 623
Huntington Beach, California 92646
email:
info@hblongboardcrew.org
---
A Not So Recent Event:
Click photo below to see other 1930's pics
Thank you Marilyn at Mario's for the cool pics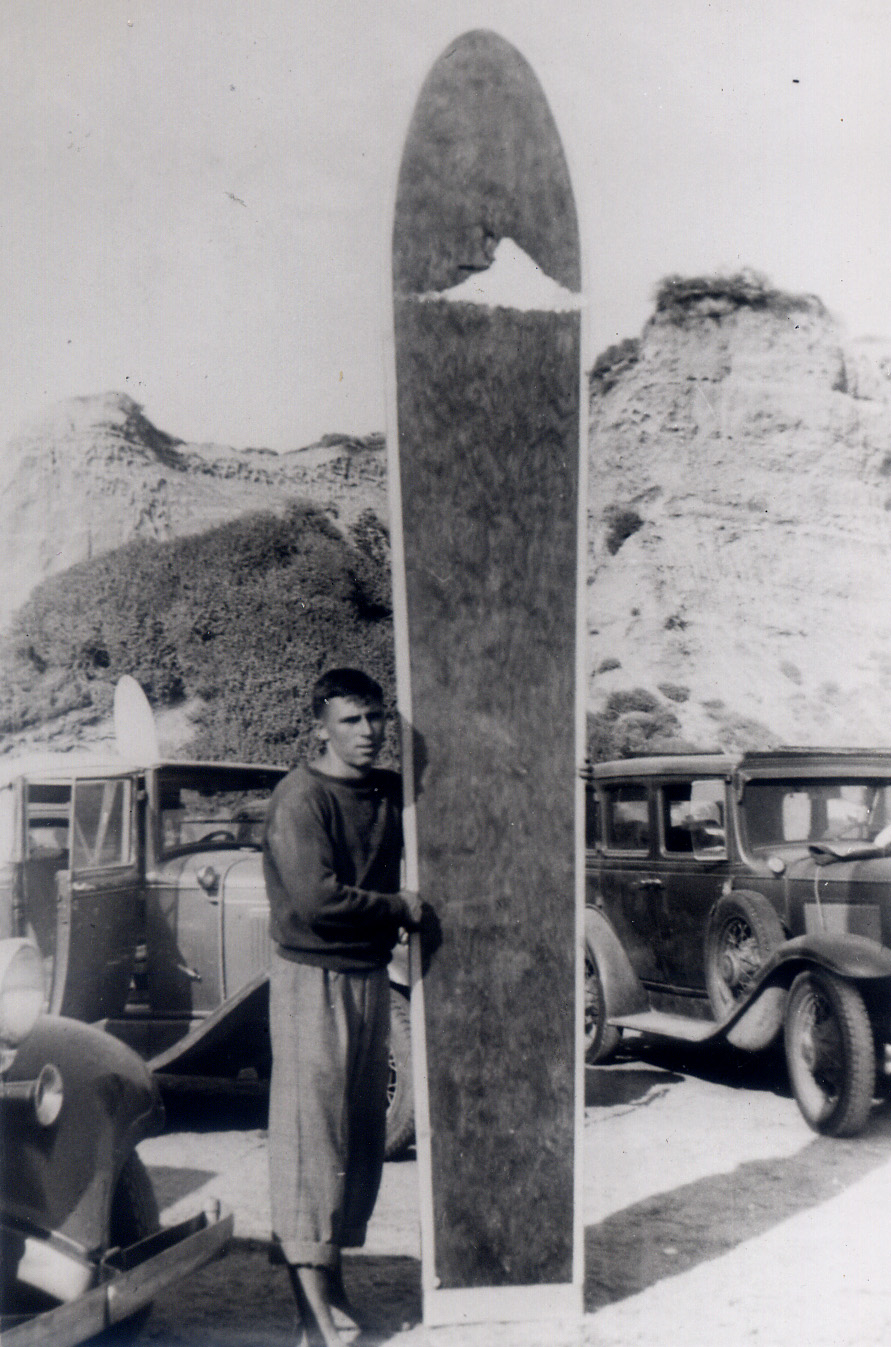 ---
Club Notes:
click here for archived notes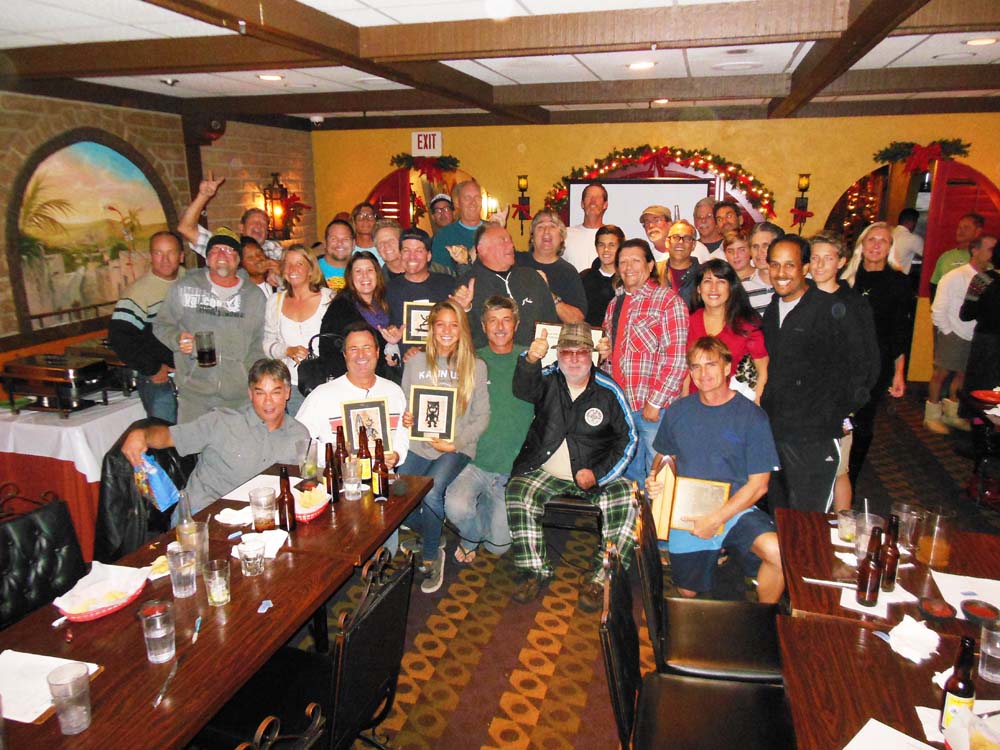 Our 2012 holiday party at Mario's was well attended. We had a complimentary all you can eat buffet and a canned food drive. We collected about $600 for our charitable causes.

The 2012 awards were given out to Young Lioness, Maddie Comargo; Comeback Competitor, Joey Hawkins; Most Improved, Bill Brewer; Perpetual Trophy, Tim McCollum. Gary Sahagen was awarded the Huntington Beach Longboard Crew's Lifetime Achievement Award.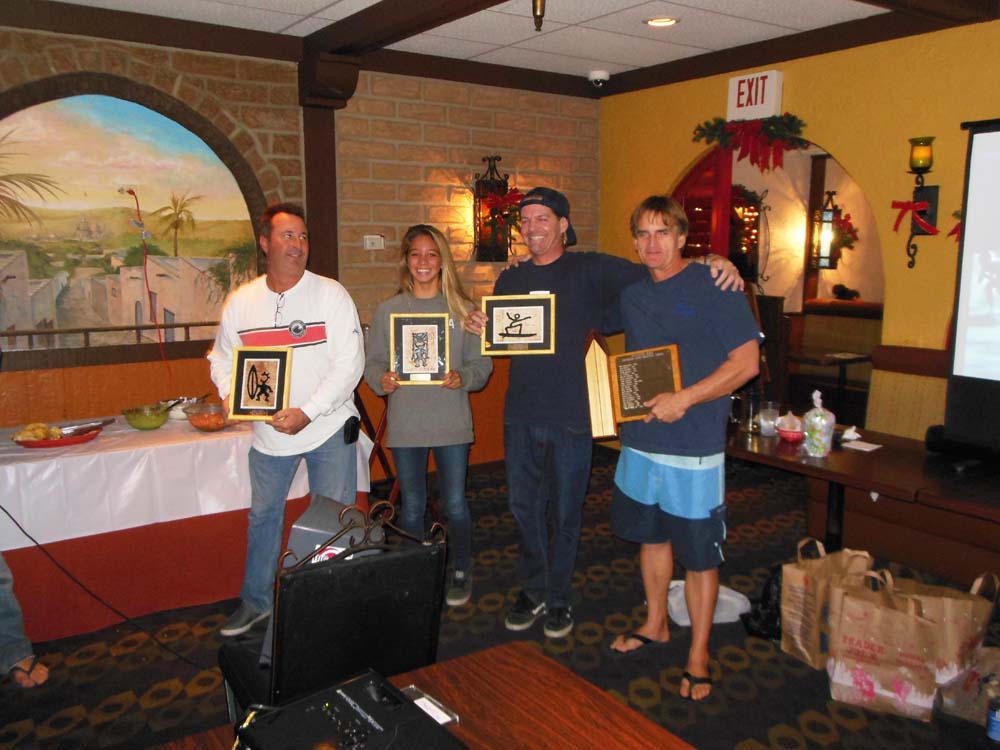 The Longboard Crew sent a team to the DLSA Gathering of the Tribes on January 5-6, 2013. Our team got ninth out of 17 teams. A great article about it appeared in the OC Register written by Laylan Connelly.
The 28th Annual Pier Paddle was held on February 2, 2013. The event was won by Shane Jones with a 5 minute and 55 second time. This set a new record for the race. It was low tide, small waves and no wind. Perfect conditions for a fast race. Noel Terrado was second with a time of 6 minutes and 37 seconds. Third place and also beating last year's time was Tim McCollum finishing at the 6 minute and 48 second mark. Thomas Da Silva, Sharon Lee and Maddie Comargo rounded out the top six with times of 7' 21", 7' 28" and 7' 48" respectfully. Laylan Connelly wrote an article which appeared with photos by Pat Fabian in the OC Register on February 5 in the Local section.
February 3, 2013 the Crew returned to the beach not to surf but to host the Surf City USA Marathon's Beer Garden for the sixth year. If you missed out you can join the fun at the 2014 event on February 2.
In March, the Master Chef filmed on the beach and many crew members participated. Tim McCollum had a starring role as an extra.
The Crew supported the Rincon Invitational with a team again for March 16, 2013. Thank you for coming up to surf Rincon and winning third place for wave sharing. Bill, Tim, Mike, Gary, Tony A., Shane, Lee, Wendy, Myra, Yvette, Hans, Jon, Pete, Dakota, Derek, Shon, Tony B. and Steve.
In April the crew served up the 13th Annual Robin Hauser Surf n Bowl. The surf was fun and so was the bowling. Thank you to all the participants and Jim Angeley for the vintage surfing monkey trophies. Results were:
Open Men 1st Gary S.
Open Men 2nd Steve H.
Open Men 3rd Bill H.
Open Men 4th Mike W.
Women 1st Shelly C.
Grom 1st Marria B.
I Suck Awards Al S. and Kathleen M.
For May 2013 the club went traveling from Malibu to Swamis and there were waves up and down the coast. We were getting the team geared up for Malibu Boardriders' Call to the Wall in June. By the time June rolled around the team was ready to step up and meet the call. We sent a strong team up but met with problems from the get go. Injuries and judging aside it was a fantastic tournament with epic waves at the world famous Surfrider Beach. Imagine a perfect wave with only six surfers out. Maddie Camargo took first in her longboard division and fourth in her shortboard division. Todd Messick brought home a third place trophy. Many club members made it through a round or two.
Oceanside was next followed by another Malibu event in September for the surf team. The Blessing of the Waves and the HB City Contest for residents happened in September as well. Many members supported these events. Finally we attended the 24th Annual Dale Velzy Surf Classic and Luau at Doheny State Beach. It would have been Dale's 86th birthday! What a blast with Stewie taking home a first place! Way to go Mark!
October 2013 and summer finally arrives in Huntington Beach. Warm water and some offshores provide some much needed surf for us. Hope you goy some with the crew. The team hit La Jolla and Cardiff for a couple of coalition events. Tim attended La Jolla as a team of one. This represented one of our top team places for the year! Way to go Tim!
The Cardiff Reef Invitational in October was attended by a few more members and the team placed seventh out of 20 clubs that got invited. John, Jeremy and Gary placed third in their divisions. The camping was great and supporters were there in force. Thanks to Kathleen, Tim, Irena, Chris, Todd, Mark, Ted and Noel.
The Huntington Beach Longboard Crew's Surf Team headed for La Jolla in November for the Cardiff Surf Club's and the Pacific Beach Surf Club's Tourmaline Club Challenge. We camped all weekend at Tourmaline Beach Park. Great food, company and the team did quite well. Thank you to all who came down. Our team's finalists included John W. who got third in classic surfing. Awesome job by Maddie C. who got fifth in classic surfing and sixth in shortboard. Mark Stewart absolutely killed it all weekend with a third place in shortboard and taking home first place in classic surfing with some incredible waves in all his heats. Stewie also had fresh caught halibut served up for us after the awards ceremony! Gary S. won a third place in the presidents heat. Our team cumulated points based on how far you got in the contest. Jeremy G. made it to the semis, Stephanie D. advanced and Duncan M. advanced in both classic surfing and SUP heats. Sean R., and Larry C. were pitted against each other in their opening heat. They had a strategy to get points and it was Sean who went down in a show of personal sacrifice as he took one for the team. Thank you all!
1. Oceanside Longboard Surfing Club OLSC
2. Windansea Surf Club WSC
3. Long Beach Surf Club LBSC
4. Pacific Beach Surf Club PBSC
5. Cardiff Surf Club CSC
6. Doheny Longboard Surfing Association DLSA
7. Huntington Beach Longboard Crew HBLC
8. La Jolla Shores Surfing Association LJSSA
9. Malibu Surfing Association MSA
10. Swami's Surfing Association SSA
11. Ventura Surf Club VSC
12. San Diego Surf Ladies SDSL
end of club notes
---
Northside local and good friend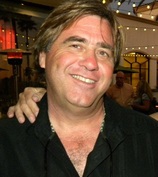 ---
Early Huntington Beach Surf Clubs have a long history.
Pictured below are some of the earlier tribe members from the Hole in the Wall Gang
The 2011 Surfing Walk of Fame Honor Roll Inductees! There were 38 names listed for the HITWG induction ceremony. Four of these 38 inductees are Huntington Beach Longboard Crew surf team members: John Taylor, Morghan Boozer, George Lambert Jr. and Duncan McClane.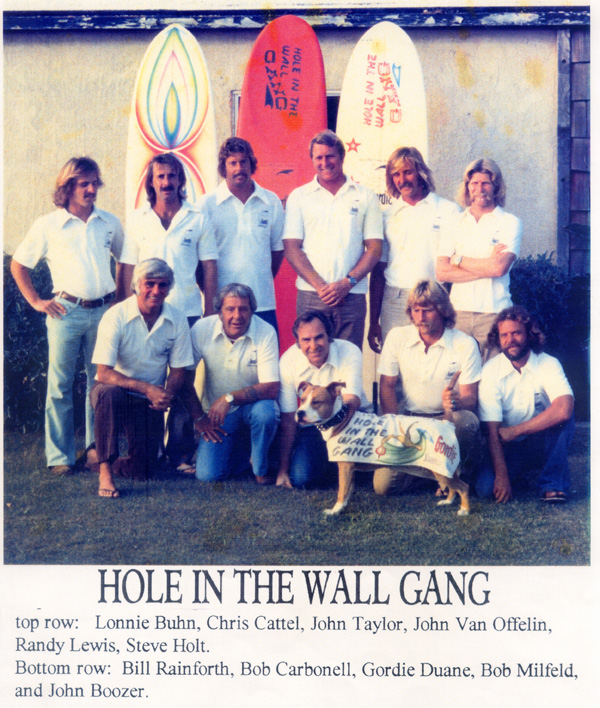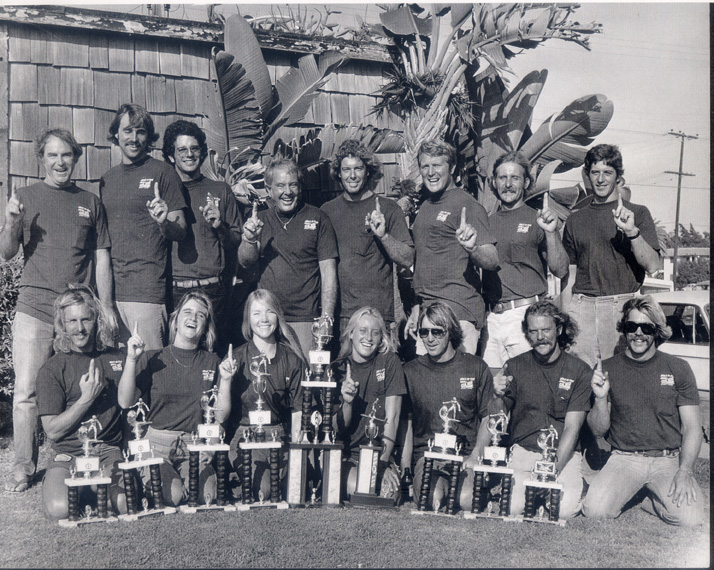 Hole in the Wall Surf Team-Number One in the 1970's
Top Row 3rd from left is Duncan McClane, 5th is John Taylor - Morghan Boozer is kneeling 2nd from left and Mr Pipeline was her husband, John Boozer who is 2nd from right kneeling.
---
Please Support:

---
Please Support:

---
Please Support:
---
Please Support:
---
This has helped our members and is worth a look: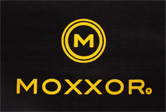 ---
Thank you to all our generous sponsors including:
Olas Mex Grill
Zack's Surf Shop
Bobby Zee Images
Coral Reef Wetsuits
Aloha Grill
John Lyman Photos
Jack's Surfboards
Huntington Surf and Sport
PaddleAir
Love at First Bite Catering
TK's Frog House
Rip Curl
---
Custom Search